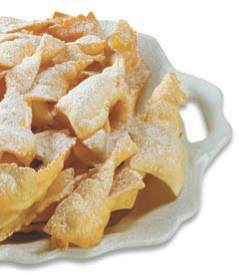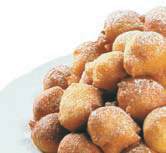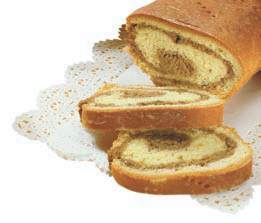 G A S T R O N O M I C K V A R N E R
Nevertheless, there are also more modest
influences in the preparation of sweets. It all
began with daily bread, in this case a sweet
white bread baked into the shape of a ring or
wheel. The island people called it
origins to our seafaring tradition. The
wives of sailors prepared it for their
husbands to take with them on
was kept in the cargo hold, in barrels or strung
on branches or string. Even now, baškoti
are still baked in some places, for example in
Bakar, but today they are bread and cake for
a celebration. In general, dessert lovers have
no problems. In Primorje, they can munch on
sweet fried kroštule with almonds,
made of dried figs and walnuts with a few drops
of a grape brandy, presnac made of fresh sheep
cheese, and can also enjoy cakes made from the
juicy, large and delicious cherries grown
in Lovran, or the numerous cakes made
from Lovran chestnuts. It is a good idea
to come in October for the
famous chestnut festival. In Gorski Kotar, yeast
pastry is very popular. The local housewives
, a sweet yeast pastry roll filled
with cheese, apples or walnuts. Desserts made
from wild strawberries, blueberries, raspberries,
blackberries and cranberries are often served,
including simple fruit salads and coupés.