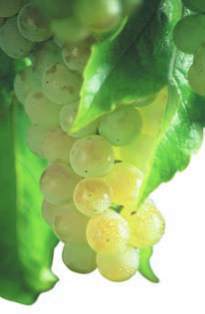 G A S T R O N O M I C K V A R N E R
Finally, we come to love and culture, prayer
and curses, life, science and myth — wine!
This gastronomic guide would be incomplete
without the exquisite wines from this region,
which have quenched the thirst of laborers
and regents, rulers and courtiers... Depending
on the type of food being served and personal
tastes, depending on the circumstances
and the company, choose white wines from
among the autochthonous varieties: žlahtina,
draganela, maraština (krizol), malvazija, muškat
(muscatel), brajkovac, belina... If your food
and mood require red wine, you can try plavac,
golubinac, teran, magrovina, suščan, trojšćina...
Žlahtina has received much deserved
recognition and many consider it to be the
best white wine in the entire region. It
provides an excellent accompaniment
to all gastronomic specialties, especially
fish, shellfish and light meat dishes. It
is certainly the best known and most
esteemed wine in the region, cultivated in
the areas of Krk and Vinodol, especially
around Vrbnik on the island of Krk.
Its name comes from the Slavic word
žlahten, which means noble.
Žlahtina is dry, balanced, satin smooth,
crystal clear, greenish yellow and has
a very expressive, distinctive bouquet.
This is a charming and lively wine, with
an alcohol content of 11.0 to 11.5 vol. %.
In addition to the Krk and Vinodol wine
producing regions, the subregions include
Opatia-Rijeka, Cres and Lošinj, including
the smaller islands (Susak, Unije, Ilovik and
Srakane). Of particular interest is the island
of Susak, which has become an exceptional
wine producer due to its specific sandy soil and
climate, and produces its own autochthonous
wines. The best known are suščan, trojšćina,
susac and prosac among the red wines and
draganela, krizol, opačevina, susac, muškat
(muscatel), belunić, bela ruža, belina and
pleskunaca among the white wines. Today, the
greatest demand is for commercial but good
quality muscatel, cabernet, sauvignon and
Choosing the right wines to accompany a meal
is a genuine event. There are general rules for
selecting wines for a meal: from light wines to
heavier ones, from cold to less cold, from young
to older, from light to darker... We add three
· When you are in the region of Primorje-
Gorski Kotar, drink the local wines because they
go best with the local foods!
· If you do not know which wines to choose, rely
on your local hosts, particularly in restaurants.
The people here know their wines very well!
· Simply choose the wine that you think you will