Forests

Water

Mountines and


undergrounds

Biological diversity

Cultural monuments

Via Karolina and Lujzijana

Sports and rerecreations

Gastronomy

> Cultural heritage


Shrines

Body and soul relaxation

The most, the best


and the …est

GREETINGS FROM GORSKI KOTAR

Greetings from magnificent and huge mountainous region between Pokuplje and Primorje (i.e. Croatian Littoral), with rich tradition and Chakavian, Kajkavian and Stokavian dialects. Greetings from spiritual and secular events, visual arts and sculpture workshops, eco-educational school, pleasant summer musical evenings and feasts.

Greetings from: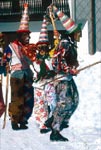 "PESNIKI" FROM CRNI LUG
Carnival tradition is very long. In Gorski Kotar carnival groups ("Cuklar" Čabar, "Larfa" Tršće, "Kurent" Gerovo, "Blječak" Plešce, "Pošterkanc" Skrad, "Krota" Lokve, "Starača" Fužine...) have restored to life local long carnival traditions. It is "Pesniki" from Crni Lug that are impressive on Shrove Tuesday. SEE INFO

WIND ORCHESTRA AND TAMBURITZA GROUPS
Wind orchestras have long and vivid tradition in Gorski Kotar region. Cultural Club "Sloga" wind orchestra from Ravna Gora (founded in1830) and Fuzine music band (founded in 1845) are renowned for their quality and tradition. There are also Tamburitza players from Mrkopalj, Brod Moravice, Vrbovsko, Čabar, Prezid and accordionists from Zamost and Hrib, horn-palyers from Tršće and Gerovo, Ravna Gora Children Choir "Brezica" and Delnice "Goranski Snjegovi" that are all part of Gorski Kotar art and cultural scene.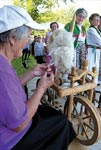 FAIRS
At weekends, according to regular schedule, every day in another place colourful country fairs in Delnice, Čabar, Gerovo, Fužine, Mrkopalj...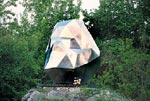 GORAN'S SPRING
Every year a respectable poets' event takes place on March 21, marking the first day of spring and the birthday of the poet Ivan Goran Kovačić in Lukovdol.
TEL. 871 295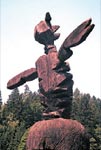 VISUAL ARTS AND SCULPTURE WORKSHOPS
Traditional annual artists' event, sculptors in the openair workshops (Lokve), and international annual Raku convocation - ceramics work, ceramic articles (Workshop Plemenitaš,
TEL. LOKVE, 831 250, PLEMENITAŠ,
091 6141 795, 875 984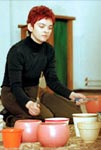 SCHOOL OF PEACE
International creative children and youth workshops in ecology, photography, music, dance, ceramics. Especially worth mentioning are the May Peace Days with occasional photography exhibitions, lectures and shepherd's games...
TEL. 833 225, 833 070



SUMMER MUSICAL EVENINGS AND FEASTS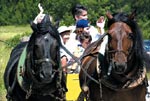 Zrinski music evenings, Čabar, Summer evenings in the park, Delnice, Summer in Fužine are just some of the summer music and stage programmes...
TEL. ČABAR, 821 042,
DELNICE, 812
156, FUŽINE 835 163

NEW YEAR'S OUTDOORS PARTY,
Vrbovsko

DAYS OF KREŠO GOLIK, Fužine