WORLD OF TROUT AND GRAYLING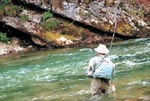 Stream trout, huchen, grayling, chub, bullhead, nose carp, crabs... are part of fish world of clean Gorski Kotar brooks, rivers and lakes. Spearfishing is possible on the banks of the River Čabranka from its source to mouth, in the River Kupa a half km from its source to Severin, in the River Dobra from its source to Gomirje, and in the lakes Omladinsko, Bajer,and Lepenica. For this kind of fishing, licence is required (either an annual or a daily one). The rivers Kupica and Curak are among the best known in the world for grayling (Thymallus thymallus) and stream trout (Salmo Trutta m. fario).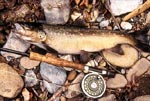 On the River Kupica the fishing regime of "Catch and Release" has been introduced which is the first one in Croatia. In the river Kupa along with trout and grayling there is also an attractive sort of fish - huchen (Huco hucho) that can grow, on average, up to 10 kg, and its natural habitat is only in the confluence of the River Danube. It is one of the top-o-f the-ilst trophy fish in the world.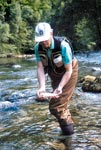 Fishing on rivers the Kupa,the Kupica and the Curak is allowed only with fishing rod and artificial lures. No other types of fishing are allowed. It is forbidden: to fish in rivers and lakes from twilight to dawn, to catch fish directly with a hand or dragging the hook or other means that are not permitted, to fish from a boat, to catch pike, pikeperch or catfish with a live fish as a bait in waters boarding on Slovenia, and to fish when the level of water reaches a certain height regulated by law.

INFO TEL. (FISHING LICENCE):
– Kupa, Kupica, Curak
(Catch&Release) TEL. 837 195, 837 155,
837 119, 810 123,837 360, 837 164, 817
907,811 907, 836 246, 836 133
mmgfly@hi.htnet.hr
– Bajer and Lepenica Lakes
TEL. 835 163, 835 019, 835 223, 835 187
– Omladinsko Lake
TEL. 831 250, 831 131, 831 240
– Mrzle Vodice Lake
TEL. 838 047
– Dobra
TEL. 875 984,
– Čabranka
TEL. 821 281, 825 216, 821 042
– Kamačnik (weekend and holidays),
Litorić TEL. 875 984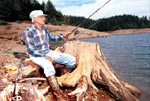 Programmes:
Golden grayling, May, traditional international fishing competition with artificial fly, Brod na Kupi Golden trout, April , Plešce: