Archaeological heritage

Ethnographic timeline

Alphabet as heritage

> Musical heritage


Architectural heritage

Industrial and technical


heritage

Reader's guide

Visual arts


Diana Grgurić
MUSICAL HERITAGE

The variety of musical expression on Kvarner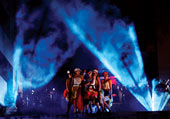 The musical phenomena of the Kvarner region are an important part of Croatian culture. They are so numerous and diverse that if you wish to become acquainted with them, you will need to listen to many different music styles and expressions.

The most ancient source is folk music, as ancient as the life itself in this area. It is directly connected to the way of living and working within the relatively small area of Kvarner, its sea and the mountains. The folk music is a symbol of the fireside, the atmosphere of our ancestors' homes, which is why it is so authentic and unique. Generations have shaped and preserved their music, in a process that combined various musical styles and expressions.

Throughout its history, Croatia has been influenced by a variety of cultures, which is why today there are six different areas with respect to music and folklore. The originality of its folklore remained nevertheless preserved, as well as the spirit of Croatia's people. The mutual influences of Croatia's folklore areas were no disturbance, quite the opposite. On the other hand, the music of Istria and Kvarner, originating from barren coastal soil, has always been so special that it has remained quite protected from external influences.

The whole coast of Kvarner and the islands of Krk, Cres and Lošinj are proud of that tradition. The other elements of folklore – the musical instruments, dances and traditional costumes – add to the integrity of the story. They have also been the inspiration for many Croatian and European artists. Due to its traditionalism and originality, the folklore heritage of Kvarner and neighbouring Istria can be compared with the musical folklore from other Mediterranean areas.

Another musical rarity of Kvarner is Glagolitic singing, a unique example of popular ecclesiastical music that combines Gregorian and Croatian folk chants. Today it cannot be heard live, but it has been recorded. The best way to learn more about it is to buy a CD in local churches or CD shops.

The centre of musical arts on Kvarner is the Croatian National Theatre Ivan pl. Zajc in Rijeka. As a nursery of musicians and music, the theatre has always been a great motivator for artistic life in the area. Local and foreign artists perform here, including renowned composers, conductors and actors. The theatre has helped to develop the interest of local people in the arts and musical education, so it is no wonder that several artists of worldwide renown have come from Rijeka, the cultural heart of Kvarner. This process has continued up to the present day. As a venue for theatrical and musical events, Kvarner ranks very highly in Croatia, its repertoire and organisation meeting international criteria. This is confirmed by, among other things, numerous cultural events in summer featuring performances by renowned ensembles. These include Musical Evenings in Osor on the island of Cres (classical music in an historical ambience with an emphasis on works by Croatian composers), Musical Evenings in Lubenice, also on the island of Cres, but with an emphasis on early music, folklore and vocal singing - the so-called klape. Not to forget the Kastav Cultural Summer, Rijeka Summer Night, Opatija Summer of Culture, summer events on the islands of Krk and Rab... Throughout the year, most concerts take place in Rijeka, primarily in the Governor's Palace and the Croatian House of Culture (Hrvatski kulturni dom) in Sušak. Opatija's Villa Angiolina hosts ever more concerts and stage performances also in wintertime.

Popular music, mainly created and played by talented, self-taught performers, but also by creative academic artists, makes up for the areas that cannot be covered by classical music and continues to develop its own, rich hedonistic life. This is how it has always been and how it still is today. Popular music follows recent international trends and creates a domestic musical scene characterised by pop ballads in the local Čakavian dialect with elements of Istrian folklore. Festivals of "Čakavian songs" include the popular Melodies of Istria and Kvarner, the only travelling festival in Croatia. It encourages musical creativity with respect to the local folklore musical and linguistic heritage.

Croatian festivals of popular music have their roots right here on Kvarner. The Crystal Hall of Opatija's Hotel Kvarner was the first venue for the Festival of Popular Melodies Opatija in 1958. It was no accident that Opatija, at that time compared with Italy's San Remo, was chosen as the first festival town: apart from being a tourist sensation, Opatija could boast of famous visitors from the world of music, like Pietro Mascagni, Giacomo Puccini, Boris Papandopulo, Ivan pl. Zajc, Begnamino Gigli, Jan Kubelik, Franz Lehar, Alma and Gustav Mahler.

The musical life on Kvarner is to a great extent created by cultural artistic societies, singing groups (the so-called klape), choirs, tamburizza and other orchestras and dancing groups. Amateurs are playing an ever more important role in cultural events. Musical creativity of amateurs includes both indigenous and imported means of expression, the most famous probably being singing in the so-called klape choral groups with elements of pop music.

Music is, more than any other art form, omnipresent in people's everyday life. Life on Kvarner confirms this, to its own joy and to the delight of its visitors.

The Beneventan Evangelical Script from the 11th century is the oldest musical document on Kvarner. It was discovered in the cathedral in Osor on the island of Cres, and today it is kept in the Biblioteca Apostolica in the Vatican.

Glagolitic singing is a kind of ecclesiastical singing used to accompany the Old Slavic liturgy. The name derives from the old Croatian Glagolitic alphabet that was used from the 9th until the 19th century. Ritual Glagolitic books contain no music manuscripts, so it is hard to say much about how it was in the beginning. Through oral tradition it has been preserved in a somewhat changed form. Today's Glagolitic singing is simpler than Gregorian chant. The melody follows the structure of the spoken word. This is part-singing music, sometimes heterophonic. Intonation is often untimed. There are local variants from place to place: on the island of Krk one can distinguish the Vrbnik nota and the Punat nota. The term vela nota describes singing on feast days, whereas mala nota describes singing on ordinary days. The influence of Gregorian chant is characterised by the need to adapt foreign, Latin chant to the Croatian language. The beauty of Glagolitic singing has grown from the Christian tradition of western music and the unique Croatian folk singing. It represents an extraordinary Croatian phenomenon that has always attracted the attention of local and international musicians.

The Istrian scale is a row of six tones with a specific sequence of intervals that theoretically systematises the untimed folk music of Istria, the Littoral and the Kvarner Islands. The name comes from its place of origin, the Istrian peninsula.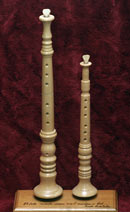 The most famous folk instruments on Kvarner are the sopile. These are wind instruments of the oboe type and a remnant of the old European instrument called the shawn (šalmaja) that has a double reed and a conical tube. Sopile are usually played in pairs - one person plays the "small" sopila, the other plays the "large" one. The instrument has six finger-holes and is made of maple. Apart from sopile, several more traditional instruments are played on Kvarner, like the dvojnice, mišnice, šurle, button accordion and tamburizza orchestras.

A specific way of singing is characteristic of folk music on the Kvarner coast from Brseč to Novi Vinodolski, and on the islands of Krk, Cres, Lošinj and Rab. It is characterised by two voices with rather small intervals and instrumental accompaniment. The first voice sings na tanko, which means "thin", while the second voice sings na debelo, which means "thick". Tarankanje is the way of imitating the sound of the sopile by singing in neutral syllables ta-na-na or ta-ra-ran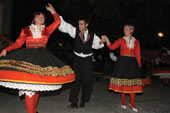 Krčki tanac is a traditional dance in three-four time from the island of Krk accompanied by sopile, in pairs or in threes, or in rare cases in the form of a wheel dance (the so-called kolo). The dancer who initiates the dance is known as the capo di ballo; he demonstrates the steps and the other dancers follow them. Visitors eager to feel the importance that music had as a means of entertainment and in forming the human soul should visit the traditional festival of young sopci and kanturi on the island of Krk that takes place every year in July



Vocal singing by the so-called klape has its origins in Dalmatia and is now also widespread on Kvarner. The pure harmonic part-singing melodies reflect the Mediterranean culture and the bel canto singing technique. Men or women sing in specific choral groups, the so-called klape, thus providing the musical background typical of seaside areas. The festival of klape from all over Croatia takes place every year in Novi Vinodolski. Some of the most renowned such groups from Kvarner are the men's klapa Fortunal, the women's klapa Luka (both from Rijeka) and the women's klapa Teha (from Cres).

Bugarenje is a specific but today rarely performed style of folk singing. It involves two-part singing without instrumental accompaniment and with specific tone intervals reminiscent of the oldest forms of heterophony. Today it is performed only by male singers on rare and mostly private occasions, in small villages in the hinterland of Opatija beneath Mount Učka.

The Organ in Rab Cathedral is one of the most valuable musical instruments of its kind in all Croatia, where the tradition of building organs goes back to the 14th century. Some of the finest examples were made in the 18th century by Petar Nakić (1694 – 1769), a brilliant organ builder and a craftsman of the European tradition. Today it is estimated that he constructed about 350 organs in total, but only four remain preserved in his homeland. The Rab organ is one of them. It was made in the mid-18th century and recently restored to serve for liturgical purposes again.

Andrija Patricij (Petris), a musician from the island of Cres, came from the same noble family as the philosopher Franjo Patricij, who was probably younger than Andrija. The exact years of his birth and death remain unknown. We only know that he worked in the mid-16th century and died later that same century. Patricij was a master of the renaissance madrigal and a contemporary of Marenzi, Gesualdo da Venosa and Monteverdi. The four of his madrigals that have been preserved attest to his great ability as a composer and his knowledge of recent renaissance musical movements.

Vinko Jelić/Jeličić (1596 – 1636?) emphasised his Rijeka origins by adding "Fluminensi Sancti Viti" to his name when signing his works. He first lived in Rijeka, then moved to Graz in 1606 and later went on to other European cities. He was ordained in 1618. He gained a reputation with his ecclesiastic music as a composer of early baroque characteristics. He was the composer of a collection of spiritual concerts "Parnassia militia" (1622), a collection of motets and other church compositions "Arion primus" and "Arion secundus" (1628). Unfortunately, none of his collections has been preserved entirely. It is assumed that he died in Zabern when it became caught up in the Thirty Years War from 1632.

Venceslav Wenzel (1784 – 1835), a composer and conductor, was born in the Czech town of Police. From 1821 he worked in Rijeka as the first teacher in the newly established music school. He was also organist for the church choir and conductor of the theatre's orchestra. Until 1835 he was the leading musical personality in Rijeka.

Nikola Udina Algarotti (1791 – 1838), philologist and priest. Upon his death he bestowed to his hometown of Krk six thousand books, a large collection of music items, and a valuable collection of instruments. Some of these were signed by Stradivari, Amati, Guarneri, Bergonzi and Stainer. Since 1935, his collection of music items has been kept in the archive of the Croatian Music Institute (Hrvatski glazbeni zavod) in Zagreb. This includes three thousand printed and hand-written compositions, among them manuscripts of A. Alberti, J. Bajamonti, I. M. Jarnović, as well as some first editions of Udini's contemporaries. There are also fragments of Mozart's opera Lucio Silla with some notations made by the author's hand.

Josip Kašman (1850 – 1925) was a world-famous baritone of Mali Lošinj origin. He was a member of the first permanent Croatian opera in Zagreb, and performed in nearly all the major opera houses in Europe and worldwide. A brilliant interpreter of characters from the operas of Wagner and several Italian authors, he was known as the "king of bel canto".



Franjo Kresnik (1869 – 1943) was born in Vienna, studied medicine in Innsbruck, made violins in Rijeka and Genoa, and worked as a general practitioner in Rijeka from 1900. As a supreme connoisseur of instruments by the old master craftsmen, he was known in Cremona as "the man who reads violins". He built his own, awarded violins to the model of Guarneri "del Gesu". Eight of his violins, of the 52 that he built, are kept in the History and Maritime Museum in Rijeka.





Ivan Zajc the Older, or Johann Nepomuk pl. Zagicz or Zajitz (1800 – 1854) was a composer and conductor born in the Czech town of Domašin. From 1830 he worked in Rijeka as military bandmaster, and in 1836 he took over the duties of Venceslav Wenzel. He taught stringed instruments and singing in the music school, conducted in theatrical performances, and played the organ. He lived and worked in an era that was very important for the musical life of Rijeka, to which he contributed a lot. During his time, 50 operas were staged in Rijeka theatre, 43 of them being premieres. He was particularly successful composing concerts for oboe and piano, polonaises, piano pieces and offertories.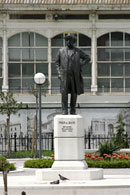 Ivan pl. Zajc (1832 – 1914), the great Croatian composer and conductor born in Rijeka, marked an important period of Croatian music, now known as "Zajc's era" (1870 – 1914). He gained his musical knowledge at the conservatory in Milan, and worked in Rijeka, Vienna and Zagreb. Ivan Zajc was an inspired, well-educated artist, and above all a composer for theatre. Having a rich melodic invention, he wrote numerous opera scores, inspired by the Italian opera of Verdi's time, as was the case with many of his contemporaries. He wrote about 1,200 pieces, most important among them being probably the 19 operas. Because of its musical quality and the national elements it comprises, his most performed opera is Nikola Šubić Zrinjski (1876). But one shouldn't forget his 26 operettas, stage music, oratories, cantatas, as well as many orchestral, chamber and vocal works. In his honour, Rijeka today regularly hosts the event known as "Zajc's days" ("Zajčevi dani").

Hinko Simonić (1867 – 1919), was a violin virtuoso from Rijeka who also worked as a composer and wrote several successful violin miniatures. He gave concerts in Croatia, Slovenia, Italy, Austria and Hungary. He became established as an organiser and animator of Rijeka's musical life during its "fin de siècle" era.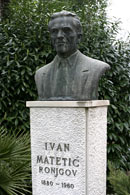 Ivan Matetić Ronjgov (1880 – 1960), was a composer and folklorist born in the village of Ronjgi near Viškovo. After gaining his musical education at the Music Academy in Zagreb, he went on to explore and write down Istrian folk chants and theoretically described the Istrian music scale. It is to his credit that folk music from Istria and Kvarner found its place in the tone system of artistic music. He defined the Istrian scale, a half-tone base of that folk music that became part of the Croatian tradition and proof of the Croatian national existence on Kvarner and in Istria. By theoretically describing the Istrian scale, Matetić made it possible to compose music based on that specific folklore. He composed vocal parts that became hymns to Kvarner's folklore, such as the choir compositions Ćaće moj and Roženice, as well as solo chants, church and orchestral pieces. The house in which he was born in Ronjgi became a memorial house in 1977 and seat of the Ivan Matetić Ronjgov Cultural Society. "Matetić's days" ("Matetićevi dani") is a traditional event that takes place every year.

Milutin Polić (1883 – 1908) was the brother of Rijeka's poet Janko Polić Kamov. He studied music in Zagreb and Venice, but his studies were interrupted by a heavy lung disease, which eventually caused the death of this young man who left several romantic works full of temperament. One of his most successful works is the orchestral composition "Suite fantastica".

Nikola Polić (1890 – 1960) was a poet, essayist and music critic. His music reviews for the newspapers Riječki novi list, Sušački novi list and Primorske novine, have left an indelible record of Rijeka's musical life at the beginning of the 20th century.

Julija Kaftanić (1890 – 1977) was a singer and a music teacher. She was born on the island of Krk and graduated in solo singing at the Music School in Sušak where she continued to teach. She gave solo concerts and was an enthusiastic participant in the theatrical and musical life of Rijeka. She was also a painter.

Milan Pihler (1897 – 1981) was an opera soloist in Osijek, Beograd, Zagreb and Rijeka (1946 – 1959) and a permanent guest at the Ljubljana Opera. He had a great baritone voice with a wide range and a remarkable stage presence. He gave 130 performances as the leading role in the Zajc's opera Nikola Šubić Zrinjski.

Bruno Rudan (1898 – 1978) had a successful career as a pianist in Italy where he also engaged in educational work. He taught at the Bologna conservatory and worked closely with the pianist Arturo Benedetti Michelangeli. He composed piano miniatures, nice musical sketches inspired by the beauty of his hometown Rijeka and the Kvarner region.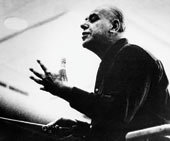 Lovro Matačić (1899. – 1985.), was born in Sušak and gained his musical education at the Vienna conservatory. He began his international career as a conductor in Cologne (Köln) and went on to conduct operas and symphonies in many musical centres across Europe, America and Asia. He also worked as a composer. After World War II, he worked in Rijeka theatre for a while. Being an artist of rare expressiveness, he knew exactly how to get his interpretation across to musical ensembles and audiences. His conducting performances belong amongst the most outstanding achievements worldwide of that kind.

1.1.2 Conchita Riviera (1900 – 1990) was a world-famous singer from Rijeka who studied singing in Vienna and Rome and was known as a priestess of the arts. As an opera singer and master of an exquisite bel canto technique, her repertoire extended from the old Italian masters to the 20th century composers. After World War II, she worked at the Music Conservatory in Cagliari, Italy.

1.1.3 Štefanija Lenković (1904 – 1998), was a soprano singer from Rijeka who studied solo singing techniques at Franz Steiner in Vienna and Lucija Ožegović in Zagreb. From 1946 until 1959 she was a soloist at the Rijeka Opera. The prize for best operatic achievements that has been awarded by the Ival pl. Zajc Theatre in Rijeka since 2003 is named after her.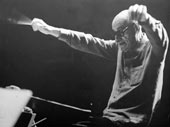 Boris Papandopulo (1906 – 1991), was a composer and conductor who worked in Rijeka and lived in Opatija. After studying in Zagreb and Vienna, he developed a very successful musical career and is now regarded as one of the greatest names of the Croatian music. He was the director of the Rijeka Opera during some of its most famous periods (1946 – 1948 and 1953 – 1959). Many of his works are regarded as capital works of Croatian music arts. He composed symphonies, chamber and piano pieces, operas, film music, vocal scores and ecclesiastical music. His most important works are the oratorio Muka Gospodina našega Isukrsta, the Simfonijeta the Concerto da camera and the opera Rona.

Slavko Zlatić (1910 – 1993) was a conductor, composer and musical pedagogue. Born in Istria, he worked for many years in Rijeka, Zagreb and Pula. His extensive biography includes the founding and leading of the musical societies Jeka s Jadrana, Glazba Trsat and Glazbeno društvo Sušak. He fulfilled many important functions: he was the president of the Yugoslavia's and Croatia's composer societies, and a member of the international council for music at UNESCO. His opus as a composer includes many choral compositions, the most praised among them being the Variations on a folk theme for choir, alt and piano (Varijacije na narodnu temu za zbor, alt i klavir). Many of his works, inspired by Istrian folklore, were written for various instrumental groups; like the Istrian dance (Istarski ples), Grudo motovunska and the Wind quintet (Puhački kvintet), to mention just a few.

Josip Kaplan (1910 – 1996) was a composer, music teacher, conductor and choirmaster. He worked in several places across Croatia and taught composition to many generations of the Ivan Matetić Ronjgov music school in Rijeka. He wrote instrumental, vocal and stage music and won many awards for his compositions. His most important works are the Galiotova pesan solo composition, the Serenada composition for wind quintet, and several choral compositions.

Franjo Godec (1917 – 1999) was an operatic soloist at the Rijeka Opera and performed as a concert and oratorio singer. He interpreted more than a hundred operatic roles. Particularly famous is his performance in the opera Nikola Šubić Zrinjski by Ivan Zajc.

Ivo Peran (1920 – 2003) was a Franciscan musician and a poet. He graduated in theology in Split and served for a long time on the small island of Košljun (on the island of Krk). He composed masses, motets, ecclesiastical chants and organ music. His dedicated work has left a significant mark on Croatian church music.

Mario Kinel (1921 – 1995) was a pop music composer, lyricist and musical editor. He gained his reputation writing Čakavian and Italian lyrics for the Melodies of Istria and Kvarner festival. He reworked more than 2000 foreign pop songs. He is the author of many lyrics and popular songs. In 1988 he won the Josip Slavenski Award for his contribution to popular music.

Ljubo Kuntarić (1925) mainly composes popular music. He has won many awards at pop music festivals and wrote the popular musical "Karolina Riječka" (1980) based on the comedy by Drago Gervais.

Vladimir Benić (1922) graduated in conducting at the Zagreb Musical Academy and worked in Salzburg and Cleveland. From 1950 he was the conductor at the Rijeka Opera and its artistic manager and director.

Miro Klobas (1922) was a musical writer, teacher and organiser of musical events. He made his contribution to Rijeka as a professor and director of the Ivan Matetić Ronjgov Music School. He was the first person to research the history of Rijeka Music School and musical life in Rijeka.

Vladimir Fajdetić (1924 – 1981) was a musicologist and music critic. He graduated in musicology at the Faculty of Philosophy in Ljubljana. He was a keen chronicler of Rijeka's music life, and a tireless explorer of artistic and folk musical heritage. His life's work is the monograph about the violinist Franjo Krežma.

Nedjeljko Karabaić (1924 – 1958) was a musical folklorist who collected more than a thousand folk dances and songs from Kvarner, Istria and the Kvarner islands. In his studies and articles he wrote about the musical arts of this region and noted many interesting details that would otherwise be forgotten. His most important work is the collection of 42 melodies with extensive commentary under the title "Musical folklore of the Croatian Littoral and Istria" (1956).

Blanka Zec (1924) graduated in singing at the Croatian State Conservatory in Zagreb. Her debut as alto was at the Rijeka Opera in 1952 in the role of Mercedes in Bizet's Carmen. She was an operatic soloist at the Rijeka Opera and gave solo concerts in Croatia and abroad. She won many awards, among them the Milka Trnina award for the role of Azucena in Verdi's Il Trovatore.

Dušan Prašelj (1931) was a conductor and composer born in Sušak, and a student of Ivan Matetić Ronjgov. He graduated in folklore theory from the Zagreb Musical Academy and in conducting from Vienna. From 1977 he was the director of the Ivan Matetić Ronjgov Institute in Viškovo. Being a dedicated choirmaster, in 1990 he founded and led the Ivan Matetić Ronjgov Rijeka Oratorio Choir. He won many prizes and awards. His most important compositions are the Baklje na Učki (Torches on Učka) choir, the Staroslavenska misa (Old Slavic Mass) musical recital and the Naš domaći glas (Our Native Voice) cantata.

Ivo Frleta (1933 – 1994) was the organiser and art director of the summer festival on the island of Krk, the most significant cultural event on the island of Krk. He was a conductor and composer whose works for voice and orchestra included Miserere, Stabat mater and Otok Krk kolijevka glagoljice (Island of Krk the Cradle of the Glagolitic).

Davorin Hauptfeld (1931 – 2004) graduated in conducting in Zagreb and worked as conductor in several Croatian theatres and in Berlin. He came to Rijeka Opera in 1961 and remained its director for many years. He regularly worked for the local radio station Radio Rijeka. He won many prizes for his achievements in a wide range of musical activities.

Vjekoslav Gržinić (1934 – 1970) was born in Ika and studied at the Ljubljana Music Academy where he obtained a Master's degree in music. His opus comprises vocal and instrumental compositions, concerts for solo instruments, chamber music and cantatas. Gržinić's music has its roots in the composer's expressionistic experiences from the first half of the 20th century. The rich tone of his instrumental work is achieved by the use of effective elements from the musical folklore of Kvarner and Istria. His most acclaimed works are the Ojađeno zvono cantata, the Simfonija fantazija (Fantasy Symphony) and the Simfonijska impresija (Symphonic Impression).

Vjekoslav Šutej (1951 - 2009) is an internationally renowned conductor who was born in Rijeka and studied in Zagreb and Rome. Since 2003 he has been the director and conductor of the Zagreb Philharmonic. He has conducted large orchestras in America and Europe.

Zoran Juranić (1947) graduated in conducting from the Zagreb Music Academy and works as a musical researcher. He is to be credited for the reappraisal and enlivening Ivan Zajc's opera and operetta opus. He was the art director of the Opera at the Ivan pl. Zajc theatre in his hometown Rijeka. He writes orchestral, chamber stage and choral music.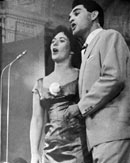 Ivo Robić (1923 – 2000), is a legendary name in Croatian pop music. Heused to perform frequently in Opatija, especially on the terrace of the Hotel Kvarner, where he became synonymous with popular music in the 1960s. He made a European career in Germany, owing to his success with the song Morgen that sold millions of copies. By his own account, he once heard an unknown group of young men playing modern music in a local club in Germany, and recommended them to an important person in the music business that he was with that night. The young men later went on to achieve enormous success, becoming known across the world as The Beatles.

Betty Jurković (1936), is a pop singer who performed at various festivals of popular music in Croatia, the former Yugoslavia and abroad. She gained popularity with the songs Vozi me vlak, Mandolina and others. She also composed several songs such as Ljuljačka, Barke fahren, etc.

Radojka Šverko (1948) has enjoyed a successful singing career, crowned with many international festival awards – in Rio de Janeiro, Tokyo, Los Angeles and elsewhere. She is known as the first lady of Croatian popular music. Her specific singing and performing qualities have opened several doors for her to the world of theatre and film.

Nina Kovačić (1949) graduated in Ljubljana where she also obtained a Master's degree for piano. She teaches at the Ivan Matetić Ronjgov music school in Rijeka. For many years she has been Rijeka's most active pianist, giving concerts in Croatia and abroad as a soloist, chamber musician and rehearser.

Mirella Toić (1953) has performed as a soprano in the Rijeka Opera since 1979. She has won awards in Skoplje, Pula, Amsterdam, Ostend, and Athens. She has interpreted many leading roles: Leonora (in Verdi's Il Trovatore), Mimì (in Puccini's La Boheme), Tosca (in Puccini's opera of the same name), Cio-ciosan (in Puccini's Madama Butterfly), Fiordiligi (in Mozart's Cosi fan tutte), countess (in Mozart's Don Giovanni), Michaela (in Bizet's Carmen), Đula (in Gotovac's Ero s onoga svijeta).

Andrej Baša (1950) is a composer, arranger and producer of popular music. Recently he has been the art director of the Melodies of Istria and Kvarner festival.

Duško Rapotec Ute (1961) is a composer of stage music, particularly noted in the performances of the Ivan pl. Zajc theatre in Rijeka.

Marinko Baljak (1957) builds classical guitars, and lives and works in Opatija. The state-of-the-art instruments that come out of his workshop are played by renowned international artists worldwide, including David Collet, Tommy Emmanuel and others. He also performs as a concert guitarist.

Elvis Stanić (1963) is a successful jazz guitarist from Opatija who took additional studies in Boston. He founded the Elvis Stanić Group jazz-fusion band that has given many successful performances in Croatia and abroad.

Darko Jurković Charlie (1963) is a jazz guitarist from Rijeka with a Master's degree in arts, particularly acclaimed for his taping playing technique. He often performs with renowned jazz musicians on the international stage.

Vladimir Babin (1964) is a pianist and lecturer in the Rijeka department of the Zagreb Music Academy. He engages in a wide range of concert and other musical activities, from classical music and jazz to pop and rock music.

Damir Urban (1968) first appeared on the Rijeka rock scene as frontman of the band Laufer and won over audiences with his suggestive vocal interpretations. He also writes lyrics and music. His second solo album, Žena dijete (Woman Child), has been acclaimed one of Croatia's ten best albums of the last decade.

The Rijeka rock scene emerged at the beginning of the 1960s. An important role in it was played by Rijeka's alternative club Palach and the youth magazine Val. Since 1979, Rijeka has hosted the longest-lived rock festival in the country, Ri-rock, aimed mainly at promoting unknown bands. A very important chapter in the history of rock music in Rijeka is the period of punk and new wave, when Rijeka was the leader of Croatia's punk scene. Bands like Paraf, Termiti, Grad and Grč have their roots here, and later Let 3, Laufer, Urban & 4. Although alternative rock is a trademark of the town, Rijeka has also never lacked mainstream performers, such as bands like Denis & Denis, Cacadou look or En Face.

Choral groups follow the Kvarner tradition of part-singing. Besides the mixed choirs, found in almost every town, there are "specialist" choirs like the choirs for old age pensioners, doctors, hunters, etc. There are also church choirs like the Sancti Viti cathedral choir in Rijeka or the choir from the church of Our Lady of Seven Sorrows in Mrkopalj. Two choirs from Rijeka, the Jeka Primorja and Oratorio Choir Ivan Matetić Ronjgov, stand out for their demanding repertoire, notable performances and numerous prizes.

Children's choirs are a nice musical speciality of Kvarner. Their members are children of pre-school and early school age who enrich various events in the town with their frisky songs and childish charm. Such choirs are the Mići boduli from Krk and Mali Riječani and Tratinčice from Rijeka.

The Krk Folklore Festival is the oldest festival of its kind in Croatia. It was started in 1935 with the aim of preserving the island's musical heritage and passing it on to the younger generation. Amateurs are also active in other parts of Kvarner, with the aim of rescuing the local folklore from oblivion. The Zora folklore ensemble from Opatija was founded in 1948. There are other cultural societies (KUD for short in Croatian) like the KUD Ilija Dorčić from Novi Vinodolski, KUD Studenac from Nerezine, KUD Orlec from Cres, KUD Rapski tanac from Rab, KUD Ante Kamenar from Grobnik, KUD Jelenje, Manfrina folklore group from Mali Lošinj and others.

The music of Gorski kotar is being preserved by cultural societies (KUD for short in Croatian) like the KUD Runolist from Mrkopalj, KUD Delnice or KUD Zeleni Vir from Skrad, and by tamburica orchestras like Kočki tamburaši from Brod Moravice, wind orchestras, dancing and folklore groups. Sometimes the music is performed at particular energy spots in the natural environment, on walking paths or places to rest. This is a way to renew one's spiritual energy by getting in touch again with nature and music.

Wind orchestras have a very long tradition indeed here on Kvarner. In Fužine, Čabar, Ravna Gora, Bakar and Mali Lošinj such bands have been active since the 19th century. The Fužine Wind Orchestra was founded in 1848 and is still going strong. Other wind societies include the Trsat Town Music (Gradska glazba Trsat) (1906), the Wind Orchestra of the KUD Sloga in Ravna Gora (1830), the Lovran Wind Orchestra (1912), the Josip Kašman Wind Orchestra from Mali Lošinj (second half of the 19th century), the Wind Orchestra of the Spinčići Music Society in Kastav (1929), the Wind Orchestra of the Rab Voluntary Fire Brigade (1914), and others.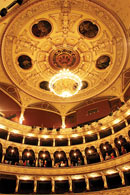 The Ivan pl. Zajc Croatian National Theatre was founded in 1885 as the Municipal Theatre (Teatro comunale) and was renamed in 1913 as the Teatro Verdi. It was given its current name in 1992 and comprises the Croatian Drama, the Italian Drama, the Opera and the Ballet. Some of the great names of music used to perform here, like maestro Giacomo Puccini (1895), singers Enrico Caruso (1898) and Beniamino Gigli, actress Sarah Bernhardt (1899), Rijeka actress Irma Gramatica (1897), composer Ivan Zajc, conductors Boris Papandopulo and Lovro Matačić. Many performances on the stage of Rijeka theatre will remain unforgettable, like the actor Veljko Maričić interpreting Hamlet or the opera soloist Milan Pihler interpreting Zrinjski. The creations of the stage set designers Antun Žunić and Dorian Sokolić have contributed to the success of many performances. The costume designer Ružica Nenadović-Sokolić has received many European awards. Members of the Rijeka theatre also give guest performances outside Croatia.

Musical education on Kvarner has its roots in the Rijeka Music School, which was founded in 1820 and is one of the oldest music schools in Croatia. Its first teachers were Venceslav Wenzel and Joseph Prohaska, then Ivan Zajc the Older and Ivan Zajc the Yonger. The Josip Kašman Elementary School in Mali Lošinj also includes the Elementary Music School in Cres. Delnice is the location of the Ivo Tijardović Music School. Today there are two private institutions – the Mirković Secondary Music School in Lovran and the Aleksandra Jug Matić Elementary Music School in Rijeka. Academic grades can be obtained at the Rijeka Regional department of the Zagreb Music Academy (1971).

The Rijeka Philharmonic Orchestra continues the activities that were started by the town orchestra (1805) for the needs of the Adamić Theatre. It was founded in 1954 on the initiative of Boris Papandopulo with members of the Rijeka Opera Orchestra. The Philharmonic was brought to life again in 2001 on the initiative of Nada Matošević. Today it is one of the two orchestras of that type in Croatia. Apart from the Philharmonic, there are several other ensembles in Rijeka, the oldest among them being the Rijeka Chamber Orchestra (1976), led by violoncellist David Stefanutti, then the Rijeka Wind Quintet (1980), consisting of members of the Opera Orchestra of the Croatian National Theatre Ivan pl. Zajc, and the Rijeka Piano Trio (1980). Not to forget the Collegium Musicum Fluminensie ensemble (1987), led by D. Stefanutti, which mainly performs music from the 17th and 18th centuries. The Rijeka Piano Duo (1989) has performed in Croatia and Italy. All these ensembles pay particular attention to the preservation of Croatian musical heritage.

Radio Rijeka was established in 1945 as the first local radio station for the Liburnian and Kvarner region. Since then it has played a significant role in spreading culture by providing information about what's on in the theatre, galleries and other cultural venues and giving them valuable media attention with the aim of cultural education and popularisation of the arts. As far as popular music is concerned, Radio Rijeka has also played an important role in making Croatian music production a respected part of the Croatian music scene.