BALLS, PARTIES, DANCES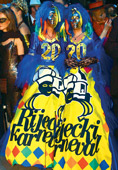 Starting with the first Saturday after the Epiphany until Shrove Tuesday, on the eve of Ash Wednesday, masked parties and dances are organized in the Primorsko-Goranska region.
All you need to do is ask at our info points or take a look at our printed carnival programmes and head towards the Saturday carnival destinations: cultural centres, hotels, specially equipped sports halls, restaurants and other venues. They all function for the carnival and the possibility of choice is truly great.
Since many of the venues are close to each other, you can visit a number of different places during one evening and experience the atmosphere of various programmes, music and entertainment under masks.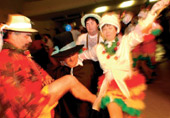 As the end of the carnival period approaches, the number of parties rises. In Vinodol region, the parties are organized on Thursdays and Sundays as well, whereas in Rijeka, prestigious balls are organized in addition to the ones "under the tent" or outdoors, as well as the so-called carnival party with electronic music.
The Diplomatic Ball for the distinguished representatives from diplomatic, political, economic and other circles continues the tradition of once famous masked balls and features a specially designed programme and set theme.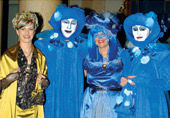 The Carnival party offers an abundance of electronic music and D.J. performances at one of the town squares and in some indoor venues. The Masked Musical Marathon is a completely different musical experience at Korzo. The Rijeka Strong Festival attracts the audience with prominent names from the rock and pop scene... and so on and so forth.
To give yourself to all those musical rhythms and sounds, especially on a Saturday, means to feel the unforgettable masked fever at Kvarner - one of the greatest carnival dancing floors.