SUMMER MASKED BALLS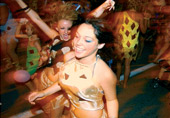 During the period of upcoming spring the town of Novi Vinodolski offers the traditional, customary and in many ways original and carefully preserved carnival tale known as the "Novljanski Mesopust". In the summer they adapt it and prepare a big two-day masked party, a celebration known as the Summer Festival.
The tale starts in July, on a Friday evening with the symbolic act of handing over the Town Keys from the Mayor into the hands of the Master of the Carnival, followed by a great childrens carnival parade and entertainment programme.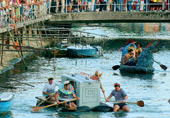 The culmination of the following day is the international carnival parade with fifty groups and more than two thousand masked individuals who melt together with thousands of visitors in a relaxed, cheerful atmosphere that continues even after the fireworks and the symbolic burning of the Carnival Guy. The tale ends with those most resilient individuals and groups who continue to celebrate until the early morning of the following day.
Summer carnival programmes are organized in certain towns and villages around Kvarner to fill the time while impatiently awaiting the actual winter carnival period. While Rijeka offers entertainment and games at the river Rječina, which gave its name to the town itself, in Fužine, there is an actual carnival procession, whereas in Punat, we have a real summer festivity under masks.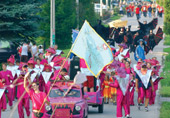 As a refreshment during July summer nights in Rijeka, the Carnival Associations' Union organizes very dynamic and eventful Summer Carnival Games with a number of rowing and other "wet" competitive games in the area between the two bridges of Rijeka.
The games are set according to the criterion of a minimum of one female member per team, with a "panel of experts" present and, of course, the most important part of it all is the numerous curious and cheering audience.
During a pleasant Saturday evening in August, hundreds of masks and dozens of masked groups from the surrounding coastal region and Gorski kotar come to the centre of Fužine from nearby Vrata. This event represents the closing part of a programme known as the Summer in Fužine. Entertainments, music, mountain culinary delights, which include the ever- present fažol (beans) for the participants, are all part of this traditional carnival gathering in Fužine.