AUTO RALLY PARIS-BAKAR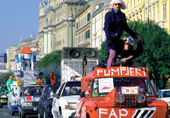 A unique Masked Car Rally Pariz - Bakar programme is one of the trademarks of the Carnival of Rijeka. It has been organized since 1990 and it is a parody of the world famous Paris - Dakar Rally.
It is a one-day Saturday carnival race of masked motor vehicles that starts in front of a pub called Pariz. The vehicles come down to Rijeka through a quarter called Krimeja for a trial run at Korzo and then, across the neighbouring Kostrena. They drive to the nearby town of Bakar, some 15 kilometres from Rijeka.
Every year, more and more cars take part in this unusual and cheerful rally – from old timers to different transport vehicles, jeeps, motorcycles and everything that can be put under the category of "weird octanes" ("puknuti oktanci"). The night before the race hosts the famous Octane Ball, and the next day those who are the most successful in driving between the cones are presented with masked awards.
Would you like to participate in this rally? The condition is "that, in addition to a driver's licence, the team or the individual mask themselves, the vehicle as well as the crew, and to have at least 98.7 %o of carnival in their blood".