BALINJERADA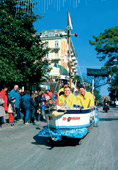 Every year in the mid- carnival period, "Balinjerada" takes place in the centre of Opatija along the main road, which divides its parks and architectural landmarks. As an embodiment of one of the most unique carnival events, balinjerada has been held for over two decades.
It is a carnival race of groups and individuals on go-karts, which is always held on Sundays in the late morning hours.
The racetrack starts at the top of the slope running down towards a finish line several- hundred-meters away located on the seafront. While Rijeka's Masked Rally has its slow-motion parade, Opatija's go-kart race is an adventurous show of skills, speed and imagination. Similar to Rijeka's Rally, it contains a light-hearted parody of some historical and some contemporary socio-political events.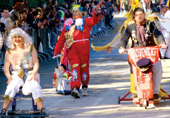 Following the carnival rules watched by the "panel of experts", many have taken part in the go-kart race including whole families and friends as well as the town hall members and some distinguished people. Balinjerada , which erases age barriers and other criteria, is open to all who want to participate in carnival parodies and give vent to their provocations and thus all participants contribute to a memorable atmosphere of the carnival craze.