CHILDREN CARNIVAL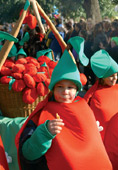 Heroes and heroines from children stories, animated and other films, creatures from flora and fauna and other worlds of imagination, once a year pop up and conquer the Opatija centre and are presented to the crowd of curious visitors and large TV audience in Croatia.
Opatija's children corso is one of the prestigious and traditional brands of Opatija carnival events gathering numerous masked groups and thousands of little maskers from Croatia and abroad.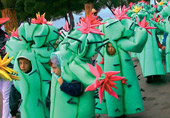 They are everywhere. It is children's day. On the carnival route defined by the programme, little maskers with their parents scatter around Opatija's park lanes, hotel terraces and other spaces, cheering at the grand outdoor festivity.

At the Open Air Theatre, some of the masked groups present themselves in their own way accompanied by wind orchestras, music and leading animators who are an inevitable part of this great carnival festivity that lasts till late afternoon in hotel halls and especially in the Crystal Hall of the Kvarner hotel.
The traditional three-hour Children's Carnival Parade at Korzo in Rijeka, on the Saturday, a week before the great International Carnival Parade, with hundreds of groups and thousands of young pre- and school children under masks, always fills you up with the emotions of joy and delight.
Young children wearing fancy costumes and being led by the Master of Ceremonies, Queen, morettos, town band and Rijeka majorettes, proceed according to a set order, the same as in the great parade.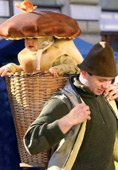 The enthusiasm with which almost five thousand children participate in the Children's Carnival Parade guarantees a future for the Carnival of Rijeka.
Pleasure and amazement with everything that happens around them can be seen on the masked faces - especially among the youngest ones, as well as their readiness to show their best in this "important" event.
From numerous stages, pairs of hosts merrily announce the masked groups of children and add to the general cheerful atmosphere.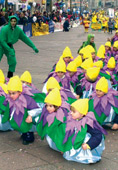 After the parade, the youngest participants continue to enjoy themselves with refreshments served in the carnival tent.
Kvarner Carnival identity has been established by organizing great children's programmes in Rijeka and Opatija in addition to children's carnival parades and parties.
They are organized in almost all parts of Primorsko- Goranska region and there is hardly any local person not taking part in carnival festivities. Worth seeing are little bell ringers in Veli Brgud, the Municipality of Matulji, Marčelji, the Municipality of Viškovo, as well as carnival parade in Crikvenica that goes along renowned promenade.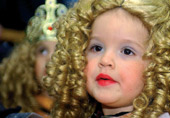 Children masked balls as a part of the programme should not be missed. They are held on hotel terraces and other edifices in the early afternoon on Saturdays or Sundays.
In addition, there are occasional programmes, traditional tea parties with the great participation of parents, local kindergarten workers and a number of carnival groups and associations in Kvarner.
In the period of carnival festivities, light- hearted children's masked adventures are offered in Kvarner almost every weekend.