KVARNER CARNIVALS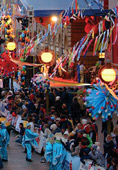 Deeply rooted in the tradition of carnival order, regulations and ritual-magic procedures, Kvarner is proud of its carnival traditions and offers its story of the carnival urban parade and festivities that attract a great number of masked groups and individuals as well as visitors.
Rijeka's carnival, according to its contents and number, presents a prestigious carnival event in Croatia. It is followed by carnival festivities in Opatija, Lovran, Matulji, Viškovo, which have gained recognition thanks to their originality, continuity and attraction for the audience.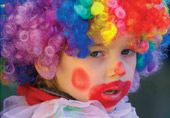 Summer carnival festivities among which Summer Carnival in Novi Vinodolski has gained an international reputation have supplemented the annual period between the two carnivals in some tourist resorts.
International membership of the Town of Rijeka (1995) and Novi Vinodolski (1996) in FECC as internationally valid carnival members is an additional proof of their value.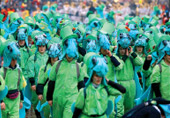 Carnival festivities in Kvarner, and especially Rijeka Carnival, provide a number of versatile programmes that we present on the following pages. Events such as The Carnival Queen Contest, The Carnival Master's Takeover of the Town Key, as well as theatre plays and exhibitions are only a part of this great programme which cannot be presented completely.