INTERNATIONAL CARNIVAL DAY
Opatija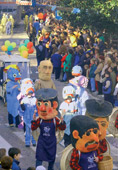 The famous Opatija tourist Riviera justifiably boasts of its carnival festivities as its own unique attraction.

The festivities commence with the carnival flag rising on St. Anthony's Day, "Antonja" on January 17th and lasts until Ash Wednesday when a spectacular Mesopust's (Carnival Guy's) funeral pyre is set on fire in Mošćenička Draga.
The tradition is long and closely connected with the carnival society of Matulji and Lumber club members who organized carnival dances in the mid-1960s.
One of the most representative Opatija programmes is International Carnival Day. On this particular carnival day, a Saturday, not only do Opatija dwellers participate, but people from all over Croatia and Italy come to Opatija.
In the environment of a unique combination of cultivated green spaces, impressive hotels and other edifices, numerous visitors participate in the carnival parade of local and guest masked groups and individuals either driven in allegorical vehicles or marching along Opatija's main street.


Afterwards, carnival festivities keep on going with entertainment and surprise programmes on the main town beach Slatina. In front of Slatina some unexpected masked vessels can be seen sailing at sea…