BELL RINGERS' FESTIVAL
Matulji, Rijeka-Krimeja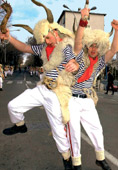 Along with the famous bell-ringers' parades around the villages of KastavŠtina, lately, the calendars of some of the bell-ringers groups also mark the special dates for the gatherings at Krimeja, in Rijeka and Matulji.
One of the first Saturdays during the Festival of Rijeka is reserved for the gathering of bell-ringers (zvončari) and celebrators (feštari) at the streets of Krimeja and Trsat, while the last carnival Saturday is set for the bell-ringers' parade in the centre of Matulji. Both attract many visitors who, in the late morning hours, melt into an extraordinary atmosphere filled with the strong sounds of bells, masked groups of children and adults and brass bands. On this occasion they play the legendary "game" with persons masked as a bear and a devil.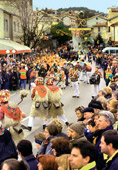 The parade in Matulji hosts the bell- ringers from Korensko, Vlahov Breg, Frlani, Žejane, Zamet and Halubje as well as Grobnik's "dondolaši", "Pehinarska gospoda", "Krimejski feštari" and many others, among which are groups both from Croatia and abroad. The Carnival Master and the Queen of the Carnival of Rijeka with the "help" of the Town Mayor lead the parade in Krimeja; in Matulji, they follow "the carnival protocol" at the head of the municipality office.

In Matulji, over seven hundred bell- ringers and thousands of visitors participate in the parade and carnival programme. With their special body movements and the sound of the bells that they produce, the bell-ringers form the so–called compact wagon. In the finale, all the bell-ringers sound their bells together and thus invite all the visitors to share the great event.