INTERNATIONAL RIJEKA PARADE
Rijeka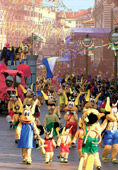 The culmination of carnival festivities in Rijeka is the traditional International Carnival Parade. Famous in the world for being one of the biggest carnival parades, it gathers over ten thousand carnival participants from all parts of Croatia as well as from abroad.
Carnival customs in our region reach far back into the past. Even a hundred years ago, carnival life in Rijeka was more intense than in any other town in this part of Europe.
Aristocracy from all over Europe took part in the organized carnival parades and balls. Today, we try not only to preserve our tradition, but also to enhance it with new experiences, festivities and masks related first and foremost to the characteristics of this coastal region. The carnival participants display impressive creativity in the crafting of masks, costumes and allegorical wagons. Some groups also like to display their humorous commentary, their parody of current local and global issues.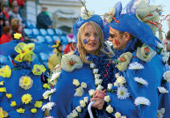 On the last Sunday of the carnival, it is truly wonderful to experience the Carnival of Rijeka – with or without a mask. Precisely at noon, the Master of Ceremonies and the Queen of the Carnival together with morettos, the town band and Rijeka majorettes in front, head the five kilometre long International Carnival Parade. All the participants, together with over a hundred thousand visitors, enjoy themselves, while the bright carnival spirit can be felt in all the streets, cafes and restaurants in town.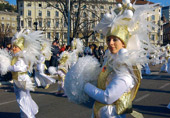 And when the procession of a hundred and fifty groups with thousands and thousands of dancing and singing masks starts, with the band in front, you are drawn into a game where you only need to let yourself go and «feel the joy of it. Numerous carnival groups - including the traditional ones that have marked the beginnings of the new carnival decades since 1982 ("Lako ćemo", "Pehinarski feštari", "Halubaj's bell ringers"), as well as the groups organized specially for the International Carnival of Rijeka come together in the procession. The carnival parade lasts for hours. The hosts add to it with their humorous remarks from numerous stages, and there are over a hundred thousand spectators as well as catering offerings along the carnival route.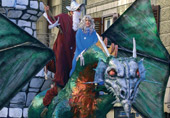 After the impressive performance of Halubajski zvon~ari who bring the parade to its end in the late hours of the evening, a new festivity begins: at Korzo and around town, there is a new, dancing carnival programme. It is up to you to stay on as long as you like, or are able to. The message of the cheerful crowd all around you will be loud and clear: Join us in the beauty and enjoyment of Rijeka's unique Fifth Season of the Year - the Carnival of Rijeka!