How to travel along the


Louisiana?

Master piece by Filip


Vukasović

On the road admired by the


whole of Europe

Settlements along the


Louisiana

Stay a few days longer,


enjoy in the nature so rich


in wild romantics

Move slowly along


Lousiana like the first


travellers did

Louisiana Map -


Four Districts

>

D

id you know?


Celebrities

DID YOU KNOW?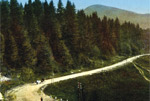 The first roadways leading through Gorski kotar from the hinterland to the sea were the Zrinski-Frankopani roads (15th to 17th century), and the first gravel roads Carolina (built from 1726 to 1732, it linked Karlovac to Rijeka) and Josephina (built from 1770 to 1779, connecting Karlovac and Senj). The construction of the most important, the Louisiana road, began on the Fiumara, in Rijeka, in 1803 under the management of the Croat, general Filip Vukasović. After his death in the battle at Wagram in 1809 road construction works were taken over by the French and the road was completed in 1811, up to Dubovac. After the French had left, the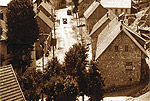 Louisiana Society was established in Vienna in 1816 and it was granted a license for the road's exploitation. The Management of the Society was appointed at that time, headed by its Principal working in Vienna, the local supervisor with a seat in Karlovac and the engineering officers responsible for each of the four Louisiana road districts, with respective seats in Bakar, Lokve, Dobra and Modruš Potok. Approximately ten road-men serviced the road in each district. Carriage was collected at five main toll-gates (Orehovica, Meja, Delnice, Severin, and Gornje Stative), and at twelve minor ones respectively. The transportation price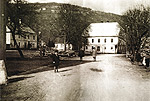 of the then customary cargo: timber for shipbuilding, cereals, tobacco and potash, ranged from 10 to 15 krutzers.

After completion of the railroad from Karlovac to Rijeka in 1873, road traffic and trade recorded a decline. It was only with the appearance of the motor vehicles at the beginning of the twentieth century that Louisiana restored its traffic significance again.

There are still doubts about the road's name. While some are of the opinion that it was named after Maria Ludovika, third spouse of Francis I, others are convinced that it owes its name to the daughter of the Austrian emperor and Napoleon's wife, Marie Louise.