How to travel along the


Louisiana?

Master piece by Filip


Vukasović

On the road admired by the


whole of Europe

Settlements along the


Louisiana

Stay a few days longer,


enjoy in the nature so rich


in wild romantics

>

Move slowly along


Lousiana like the first


travellers did

Louisiana Map -


Four Districts

D

id you know?

Celebrities

MOVE SLOWLY ALONG LOUSIANA LIKE THE FIRST TRAVELLERS DID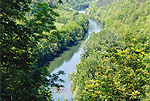 The Louisiana used to be the temporary home of coachmen and postmen, for the upper classes and the common people, for deputies, clerks and adventurers. All of them were hosted by generations of Gorski kotar inhabitants who had settled along the road and who offered shelter to the travelers. By the beginning of the last century the original inns and lodgings developed into hotels, and the physicians, having discovered the beneficial effects of the Gorski kotar air, recommended to many to spend their summer in the local mountains.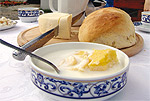 A lot has changed since then: the houses, offering comfortable accommodation and kind hosts, are bigger and more beautiful, and the hotels and guest houses are modern and cozy. In the restaurants, situated today - as in the past - on spots offering wonderful views and clean fresh air, excellent, local dishes are served, such as venison specialties, blueberry strudel or home-made cheese.

Despite the changes, one thing has not changed at all– the big heart and hospitality of the local population that, through the centuries, has transformed the Louisiana into a comfortable, intimate and warm temporary home for the travelers.