How to travel along the


Louisiana?

>

Master piece by Filip


Vukasović

On the road admired by the


whole of Europe

Settlements along the


Louisiana

Stay a few days longer,


enjoy in the nature so rich


in wild romantics

Move slowly along


Lousiana like the first


travellers did

Louisiana Map -


Four Districts

D

id you know?

Celebrities

MASTER PIECE BY FILIP VUKASOVIĆ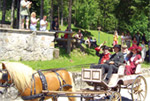 Built in 1811 as the most modern mountain road for horses and coaches, it remained in use for over 200 years for the transport of passengers and goods from Karlovac to Rijeka. It was the main road connecting Central Europe and the Adriatic ports and an important road responsible for the livelihood of the small towns and villages along its route.

"Build a road that will be protected from the wind «bora» on the coastal side. In Gorski Kotar the road should pass through the dense pine wood complexes to facilitate timber exports. Link the settlements by means of the road, to make life easier for the local population. Build it so as to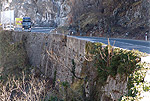 avoid any steep slopes. Take snow and deluges into account, the road has to be serviceable throughout the year and easy to maintain by the roadmen", these were the instructions received way back in 1803 by general Filip Vukasović, who was a renowned engineer at the time.

A road that perfectly served the coaches and horse-drawn carts was thus created. This road, with just some minor route modifications in the 1950-ties, when it was asphalted, continued to be used for road transport of goods and passengers for a further fifty years. A lot has changed in the course of the two centuries, but history and tradition have still remained part of the life of the people whose existence has always been connected to traffic on the Louisiana. Today the motorway has relocated transit traffic from the Louisiana, thus donating us a tourist road with not much traffic, ideal for enjoying in its marvelous views and picturesque settlements.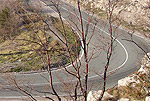 Plan five hours to enjoy your drive, or five days to enjoy in everything we prepared for you along the Louisiana. Prepare a map and a camera, take hiking boots with you, pack your bicycles, prepare your fishing equipment and set along the Louisiana where your curious spirit will find innumerable discoveries and experiences.