How to travel along the


Louisiana?

Master piece by Filip


Vukasović

On the road admired by the


whole of Europe

Settlements along the


Louisiana

>

Stay a few days longer,


enjoy in the nature so rich


in wild romantics

Move slowly along


Lousiana like the first


travellers did

Louisiana Map -


Four Districts

D

id you know?

Celebrities

STAY A FEW DAYS LONGER, ENJOY IN THE NATURE SO RICH IN WILD ROMANTICS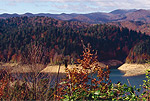 Driving along the Louisiana is a perfect choice for nature lovers. Numerous protected natural areas wait to be discovered and invite you to enjoy there. An unavoidable sight is certainly the National Park Risnjak, famous for its wonderful views and the numerous mountain paths. Descend to the amazing source of the Kupa river.


The Kamačnik and Vražji prolaz canyons will fascinate you with their unbridled wilderness. If you are fond of picnics in nature, set out for the wood-park Golubinjak. If you are fond of exploring the underwater world, do not miss to visit the caves Lokvarka or Vrelo. Here a thousand metre long gallery and numerous cave ornaments wait to be discovered.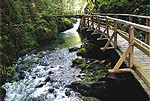 If you wish to travel in the manner of ancient travelers, pack your rucksack and set off along one of the marked mountain paths: the Mrkopalj, Ravna gora or, for the bravest ones, the Gorski Kotar Mountain Path.