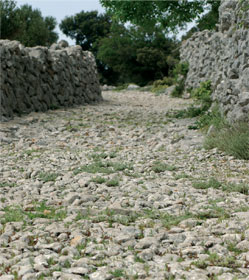 Dear nature lovers, hikers and mountaineers,
Leaving out any formalities, and without accentuating the enthusiasm for the area we live in and are so proud to represent, we would like to introduce, as clearly as possible, in this keynote address and on the pages that follow, Kvarner's ecological values, as well as its preserved condition.
The basic recreational, hiking and mountaineering routes and destinations, symbols of biological diversity and traditional values, as well as the related services and resting places, are presented here. On a relatively small area, Kvarner offers some thirty protected zones and an even greater number (more than a hundred) of areas that have been included in various protection categories. The natural heritage of this area belongs to one of Croatia's most precious wholes, and in terms of the number and variety of species, certain localities of the Kvarner area even outperform the natural features of some European countries. The Risnjak National Park, the Učka National Park, the Strict Natural Reserve Bijele and Samarske stijene, various geomorphological and ornithological reserves and a whole series of monuments of nature, park architecture, significant landscapes and woods, are valued as areas falling under various protection categories.The Kvarner tracks and promenades offer a grandstand view on a whole series of impressive sights, powerful mountains, karst areas, gentle meadows, as well as mysterious and - for many - inaccessible underground spaces.
Here stretch the well-known seaside promenades, traced with moderation and in harmony with the environment, permeated with climatic, thalassotherapeutic features and beneficial effects. Wild fruit, produce of the islands and of the littoral coast are part of the authentic – fragrant and tasteful offering of autochthonous species, supplemented by the very lively habitats of rare and endemic animal and plant life. The ripening of fruits, as well as produce made from these, are the basis of the lively manifestations interwoven with music and customs (Asparagus days, Lily of the Valley Days, Cherry Days, Elder days, Raspberry Days, Juniper Berry Days, Chestnut Days, Olive Days, Potato Days, Mushroom Days, New Wine Days, for example).
We therefore recommend that you select some of the Kvarner destinations, procure a map and
guidebook, pack sufficient drinking water and explore all that this unspoilt area has to offer. The natural beauty of the region is sure to rejuvenate even the most jaded visitor.
We warmly welcome you to Kvarner, and sincerely hope that you will have a peaceful and memorable stay.
Gordana Medved, M. sc.
Tourism Office Director
Kvarner County Tourism Office
Damir Lončarić,
President
Kvarner County Tourism Office