KRABUNOSI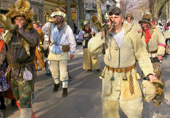 Ugly and pretty masks, traditional and modern masks, masked visits to villages and houses, stealing things from the young girls' courtyards, carnival parades, carnival wedding feasts, masked musicians, carnival companies, commanders, ensigns, "beat the air" events, accompanied by the sounds of accordions, drums, national long-flute instruments "sopele", maskers' visits to young girls, dancing, yoo-hooing, blowing the horn are only part of the picture of carnival traditions in Kvarner.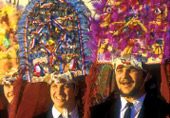 Ugly "babine" and "škrabani" on the island of Krk, horned and soot-covered "krabunosi" in sheepskin, uniformed parades, "mantinjade" in Novi Vinodolski region, Lopar's maskers with a bunch of feathers on top of their heads and bright-coloured kerchiefs on the island of Rab, Crni Lug's "pesniki" dressed in colourful suits with bells and long pointed hats on their heads and Skrad's "pošterkanci" in Gorski Kotar.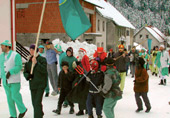 All this and much more including masked groups from Kostrena, Bakar, Kraljevica, Praputnjak, Hreljin, Krasica, then, maskers in Klana and Grobnik, on the island of Lošinj, Cres as well as in the whole Gorski Kotar region, give a better picture of rich carnival traditions intermingled with contemporary trends in Kvarner.
Never is it so hectic and bursting with energy in Kvarner as it is in this period of the year, when even local people from Primorje, the islands and Gorski Kotar by being fancy-dressed and masked uncover their true face and temperament.