NOVI VINODOLSKI'S MESOPUST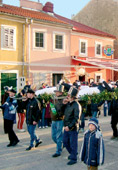 Specific features of the Town of Novi Vinodolski traditions become especially distinctive in the period of Mesopust (i.e. carnival) which has the significance of a special festivity for the local people.
Carnival festivities commence on Thursday three weeks before Ash Wednesday according to the Catholic calendar. from the first Carnival Thursday until Ash Wednesday a series of events takes place based on well-known and long - standing traditions… On three Carnival Thursdays "MESOPUSTARI" - a group of young fellows led by "advitor" - announces the wedding ceremonies of old widowers and widows.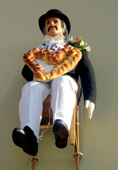 On the Sunday that follows the first carnival Thursday, only men dressed in men's and women's national costumes participate in the ceremony "Carnival Guy's Bride Is Getting Married". the wedding ceremony takes place in one of Novi Vinodolski inns. Carnival festivities culminate on carnival Saturday (after the third Thursday) when the Carnival Guy is being created and baptized - an elegantly dressed bowler- hatted straw guy put on a chair fixed with hooks on the wall of the castle above the square where a wheel dance is performed.

He is doomed to be imprisoned and then sentenced to death.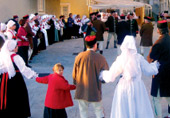 The pageantry of the Shrovetide includes wheel dancing on Sunday, Monday and Shrove Tuesday. It commences in the afternoon when men, women and children dressed in Novi Vinodolski national costumes led by "sopile" players and singers march in a procession towards the square in front of the castle. The singers sing heroic national songs and invite wheel dancers to form a circle around them. While performing folk songs and dances, three dance steps are alternating: "senjski, arbanaški and hip hop". It lasts till late evening and almost the whole town participates either as wheel dancers or audience members.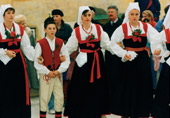 The scenic beauty of colourful national costumes with the predominance of the pure whiteness of the kerchiefs tied in a special way over women's heads, and long-sleeved shirts trimmed with lace will be etched into your memory together with wheel dancing and songs as the most impressive traditions of cultural heritage that should be experienced.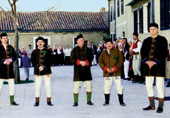 Carnival traditions end up on Shrove Tuesday when the wheel dancing stops and the Carnival Guy's trial begins. Mesopust - a carnival straw guy is condemned to death for all wrong doings in Novi Vinodolski and its surroundings. The Carnival Guy's funeral pyre is held on Ash Wednesday – all mourners of the town join the funeral procession to bid a farewell to carnival events with the cry " He was, he is no more, but he will be back".