CALVARY
Holy cross, glorious cross
Give your wreaths unto me
Why did you rise so high,
And where was he who found you
That he could not fathom
Where your heights could have come from?

Letter of Passions
By Franić Vodarić Crisanin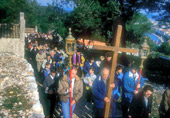 Among the signs of faith and piety scattered throughout
the Kvarner landscape, among numerous crucifixes, churches, chapels, and graveyards in towns throughout Kvarner County, we find several valuable chapels, most built in the Baroque and Historicism style, that were erected in honour of the Passions of Christ, Calvary.
They are found on the hills, adjacent to the churches or only a small distance away. The first station (of fourteen in total) is placed at the base of the hill, while the twelfth station
with the Crucifixion and three crosses are found on top; not far are the thirteenth and fourteenth stations.
The crosses are visited during Lent (on Lent Sundays) and in particular during the special procession held on Good Friday (Holy Week before Easter). Each Station of Christ's Way of the Cross is one of the stations of the Passion of Christ, a story of human weakness and strength, consistency and integrity, carrying out one's duty and respect for human rights, of "the call for mutual love", of the values that Pope John XXIII summarized in four words: truth, justice, love and freedom.
Among the Calvaries that should be seen, we point out: Mali Lošinj (a long climb on the southern part of the city chapel from the 18th century), Rijeka (remnants of the Baroque chapel on the Calvary climb that leads up the stairs from the Saint Vitus Cathedral and the Calvary on the hill above Mary's gardens in the Trsat sanctuary), Punat (recently renovated), Crikvenica, Novi Vinodolski,
Drivenik, Hreljin, Bakar (divided by the new highway), Mošćenice, Praputnjak, Cernik, Čabar (chapel connects the church and graveyard), Šimatovo/Zvaršje (from the village to the Chapel of Saint Michael), Lokve (the stairs lead from the entrance of the chapel to the top of the Calvary), Mrkopalj (three crosses above the Carolina highway before entrance to the village).

Information
Ask at the information desk at the tourism association