OUR LADY OF SORROWS, MRKOPALJ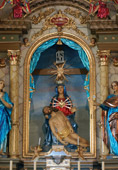 On the third Sunday in September, Mrkopalj, a town in Gorski Kotar on the old Carolina highway, is the meeting place for many pilgrims from the mountain regions, the coast and islands.
This is the feast of Our Lady of Sorrows. This holy day is preceded by regular three-day pilgrimages. The monumental Classical triple nave church that dominates over Mrkopalj is too small on this feast day for all those wanting to approach the altar and restore their spirits with prayer and forgiveness. According to the decree (1893) by Pope Leo XIII, forgiveness can be received on three days: on the days before and after the feast day, and on the feast day itself.

The church was const-ructed in 1854 as a sign of gratitude for protection from the plague at the location of the old chapel, where the wooden polychromic statue of the Mother of God of Seven Sorrows and the dead Christ originated from. This is the work of a self-taught master from Mrkopalj.
It is kept in the apse of the church, on the wall to the left next to the altar and it worth seeing. On the feast day, there is a traditional fair held along the main road, the old Carolina highway, with local cuisine and music by tamburitza players.
Information
Mrkopalj Municipal Tourism Association
tel. 051/833 225
Mrkopalj Parish Office
tel. 051/ 833 234
How to get to Mrkopalj:
- take the Delnica exit off the Zagreb-Rijeka highway
- road Fužina - Ravna Gora

Accommodation:
Hotel, apartments
Pilgrimages:
March or April, Palm Sunday week
Thursday, Friday, Saturday before Palm Sunday
Third Sunday in September, the feast of Our Lady of Sorrows
Mass on all feast days dedicated to Mary