CRIKVENICA CHURCHES DEDICATED TO MARY
I do not know what this word means to me,
But it makes my soul sway sweetly,
And it makes my knees bent,
My on breath is my "Ava Maria!"
Vladimir Nazorr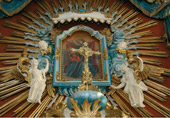 The Church of the Annunciation of the Blessed Virgin Mary

At the point where the Dubračina Creek drains into the sea, at the location of the old church (14th century) for which Crikvenica was named (crikva), Ban Nikola Frankopan renovated (1412) and expanded the church structure in the Gothic style (with a protected vault in the sanctuary) and constructed the convent which the Paulist sisters, the "white monks" inhabited. In a later period (17th century), the church was renovated in the Baroque style. In the monastery complex, today renovated into Hotel Kaštel (1987), there is a corner cylindrical tower (castle) and closed courtyard with a water reservoir, as well as a massive bell tower standing next to the church.
The main Baroque altar (18th century) with statues, two parallel altars (Saint Helena of the Holy Cross and Saint Nicholas) and the pulpits are the work of Paulist sculptors and woodcarvers.
Their names are inscribed on the back of the tabernacle. The works by Pavao Riedl on the main altar stand out in particular, as they remind us of "a great monstrance". Next to the tabernacle, under the domed baldachin, is the valuable icon of the Mother of God with child (15th century). One must also see the wooden statues of Saint Anthony and Saint Paul the Hermit (17th century). There is yet another valuable painting kept in the church that is important for Crikvenica's heritage - the one dedicated to Saint Simon. This painting was saved from a fire (1776) which destroyed the parish Church of Saint Simon on the nearby hill Kotor.

Information
Crikvenica Tourism Association
tel. 051/241 051
www.tzg-crikvenice.hr
tz-grada-crikvenice@ri.t-com.hr
Crikvenica Parish Office
tel. 051/243 136
Pilgrimage: on the Feast of the Assumption (15 August)
Accommodation: hotels, private accommodations, camps