OUR MIRACULOUS LADY, RAB
To kneel modestly before her
In the glory of pain and the glory of dreams
As if before a living Jerusalem
To cry, and to state your faith
And let every breath be a new life
And each tear, another shining gem.
Tin Ujević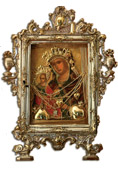 Our Miraculous Lady
Numerous fables and legends and fables have been interwoven into the more than 2000 years of history of Rab, "the city of art". One of the most treasured is connected to the healing of Luchina de Dominis, a noblewoman from Rab.
During her ordainment (in 1530), Luchina brought the icon of the Mother of God holding Christ to the monastery, which is believed to be the reason for her miraculous recovery from a serious illness.
From that point to today, there have been many cases of miraculous healings, salvations and conversions that have been connected to this Cretan-Byzantine icon (first half of the 16th century). The monastery transcripts and valuable votive gifts testify to many such events.
The sanctuary Our Lady of Rab (Our Lady of Miracles, Our Miraculous Lady) is located in the Benedict monastery, the Saint Andrew monastery. A special altar was erected for the icon (18th century). The silver and gold frame is a very valuable work by a Venetian goldsmith (18th century).
Once a year (the last Sunday in April), a large procession of the "Crosses" is held (locals come from all towns on the island of Rab and are led by the parish cross, specially decorated); the icon is then carried to the former Rab Cathedral. Here, the icon is displayed during May, the month of Mary.
Information

City of Rab Tourism Association
tel. 051/724 064, 771 111
www.tzg-rab.hr
tzg-raba@ri.t-com.hr
Rab Parish Office
tel. 051/724 805
Accommodations:
Hotels, apartments, camps
How to get to the church:
- on the island of Rab, ferry (Jablanac-Mišnjak) daily throughout the year
- ferry (Baška, Island of Krk- Lopar) daily from June to October
Pilgrimage:
April third Sunday, "Crosses"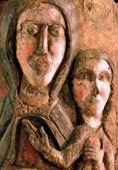 Mother of God of Lopar
The second well-known pilgrimage site dedicated to Mary is situated at the northern end of the Island of Rab, in the town of Lopar.
Above the Lopar port and ferry station, on a plateau which was formerly the graveyard, now sits the Church of the Birth of the Blessed Virgin Mary, the Mother of God of Lopar.
This church was first mentioned in the first half of the 14th century, and numerous renovations have left their marks until today. The largest treasure of the sanctuary, the reason many come seeking mercy, forgiveness and peace, is the colourful, wooden, rustic relief from the late-Romantic period depicting Saint Anne and the Mother of God in her arms. The relief is positioned at the top of the main altar (1905), over Our Lady of Lourdes.
Our Lady of Lopar is a witness to the faith and influence of pilgrims from the entire island, as well as neighbouring islands and the mainland. They gather in extremely large numbers on the feast of the Nativity of the Virgin Mary (8 September), as well as throughout the entire year.
The signs of faithfulness and gratitude by the pilgrims is clearly seen in the displayed models of boats and ships and particularly the colourful handkerchiefs that are given as maiden gifts to Our Lady before marriage and other special occasions.


Information

Lopar Tourism Association
tel. 051/775 508
www.lopar.com
lopar@lopar.com
Lopar Parish Office
tel. 051/ 775 101
How to get to the church:
- road from Rab
- ferry (Baška, Island of Krk- Lopar) daily from June to October
Accommodation
hotels, apartments, camps
Pilgrimage:
September: 8 September, the feast of the Nativity of the Virgin Mary
Mass is held on all feast days dedicated to Mary throughout the year