MONASTERIES OF SAINT MARY, KRK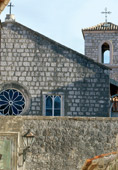 Franciscan monastery on Košljun
On the island of Krk, in Puntarska draga, only 90 meters from Punat, is the island of Košljun (0.06 km2) with its significant monastery.
Archaeological finds, stone capitals (8th century) and ruins of the Benedictine Abbey from the Church of Saint Bernadine, in addition to the ruins of a triple nave church (11th/12th centuries) in the Church of the Annunciation of the Blessed Virgin Mary all testify to the traces of ancient civilizations. Legends take the historical tale back even further into the past.
The Frankopans wrote a new page in history here, particularly John and his daughter Catharine (15th century), with their contributions and donation of lands to the Franciscan monks, who with great care and nurturing have protected and adapted the monastery to the present day.
Košljun is an attractive tourism destination, in addition to a comforting spiritual and religious centre. The space is a valuable natural (natural park), cultural and spiritual location, which is meant to inspire the visitor with its "peace and goodness" from the arrival at the dock and which is only enriched with each step taken on the small island.
Košljun reveals archaeological, naturalist, numismatic, and ethnographic exhibits (declared a cultural monument!). The largest and oldest library on the Island of Krk (more than 30,000 volumes, valuable parchment documents, incunabula, Glagolithic inscriptions, rare atlases by Ptolomy and Straban, 16th century, significant collection of musical scores, 11th -13th centuries, Košljun madrigal) are located here.
In the Church of Saint Bernadine, on display in the exhibition space are the Hebrew Bible, 11th century; missal and breviary, 16th century; wooden relief sculpture of exceptional value (16th century); crucifix from the 12th century; and Saint Jerusalem from the 16th century. On the path from the seashore to the cloister, in the Chapel of Parturition, there are valuable fragments of a manger (16th century). The Church of the Assumption of the Blessed Virgin Mary (16th century) is another Košljun treasury filled with valuables of individual expressions.
On the main altar is a polyptych depicting the Mother of God in Heavenly Glory, surrounded by angels and followed by Franciscan saints (work by D. De Santa Crocea, 16th century), a large composition of Judgement Day (work by F. Ughettia, 17th century) and six other valuable altars. The artistic achievement of the Stations of the Cross is the exceptional work by Ivo Dulčić (20th century).
The chapels in the Košljun parks are all of particular importance: the Holy Cross (Jerusalem, 16th century), Saint Francis (17th century) and the Lourdes cave (20th century) located at the site of the old Chapel of Saint Anne.
In its more recent heritage, Košljun is known for having the first Croatian secondary school (1894) in the area of Istria and the Kvarner islands, as well as for the tale of the Košljun posujilnici (17th-19th centuries), a monetary fund for impoverished parishioners.
Information

Tourism Association of the Municipality of Punat
tel. 051/854 970
www.tzpunat.hr
tz-punat@ri.t-com.hr
Franciscan monastery
tel. 051/854 017
Pilgrimages:
Feast day of Saint Anthony of Padua (13 June)
Christmas Eve, midnight mass (24 December)
Monastery open:
From Easter to 1 November from 9:30-18:00
In the winter, please contact the monastery
How to get here:
boat from Punat
Accommodations:
hotels, private accommodations and camps in Punat
Monastery publications: work by author Petar Strčić


For a beautiful flower I continued on,
On one jump of light, I moved myself,
In one beautiful dream, I kept it from myself,
I divided myself, in order to give to you
Nikola Bonifačić Rožin
Franciscan Monastery, Glavotok
On the westernmost part of the Island of Krk (Šotovento), towards Valbiska, is the Church (16th century) and monastery of the Franciscan Tertiary (Glagolithic monks) order, constructed (15th century) at the location of the old Franciscan summer villa and chapel (14th century). The Paulists spent a short time here (about 1479) and the Franciscans have been present for over 550 years. In this church, one must see the marble altar with the painting of the Blessed Virgin Mary and Baby Jesus (work by M. Da Verona, 16th century) and the old graveyard next to the church; a must see is the special park reserve of holm oak. On display in the monastery are pictures, liturgical items, and Glagolithic inscriptions.
The main celebrations are on Feast of the Immaculate Conception (8 December), on the Feast of Our Lady of Angels, Procijunkula (2 August), and on the Feast of the Assumption (15 August).

The church is open from 10:00-12:00 and from 15:00-17:00.
Info tel: 051/862 102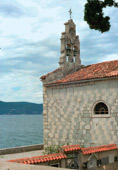 The Saint Mary Magdalene Franciscan Monastery Port on the Dubašnica River
Tertiary order displays valuable items, including the polyptych of Saint Mary Magdalene and other saints (work by G. And F. Santa Crosea, 16th century) on the main altar, the side altars of Saint Nicholas and Saint Rock (18th century) and the Gothic wooden crucifix. Of special note are the large toš, the mill and press for the production of olive oil, the ethnography collection and the museum with valuable artefacts (clay Illyrian vases, canoe-boat carved from a single tree) and the collection of stone monuments with copies of the oldest Croatian Glagolithic inscriptions. The main celebration is on Feast of Mary Magdalene (22 July).
Info tel: 051/ 867 048, 859 207
Franciscan Monastery, Krk
The Franciscans were first mentioned in Krk in 1277. The Franciscan single nave church (13th century) was constructed next to the Upper Gates of the town of Krk, and there is a wooden pulpit with inlaid wood and a painting of the Madonna with saints (work by B. Lucini).
Info tel: 051/ 221 240, 221 414