VINODOL CHURCHES AND CHAPELS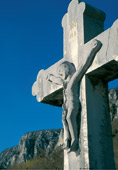 In the gentle surroundings of the Vinodol landscape, in the gifts that nature has to offer, is a sacral construction as proof of the respect of faith, the benefits of the seeds of nature and all traces of the ribbed extol tales and works of well-known national and traditional values.
Wherever you go in the Vinodol area, all around, serving as a compass and guide - from the hills, below the cliffs or around the fertile Vinodol fields - are the churches and chapels. In the category of the city churches, "everything else is suburban or rural, dedicated to the saints whose names were worn by the Frankopan rulers": Steven, Nicholas, Vitus, Martin, George, Anne, Catherine, or the patron saints-protectors from illness: Rock, Fabian and Sebastian, Anthony the hermit, Simon (protector against snake bites).
In Drivenik, at the top of the hill, is the fortified city and castle with round towers (13th century); there is also the Church of Saint Dujma (renovated at the beginning of the 19th century) and the Gothic votive Chapel of Saint Steven (15th century) with the valuable Pieta (16th century - today kept in Zagreb).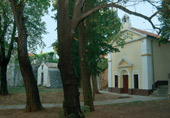 In Tribalj, there is the Church of the Visitation of the Blessed Virgin to Saint Elizabeth (19th century), while Chapel of Saint Michael and the Church of Our Lady of the Snow (17th century, see page on Our Lady of Vinodol) are found in Belgrad. The Church of Saint Martin (16th century), with a very acoustic bell tower dating back to 1609/1611, funnel shaped and bearing the inscription "From lightning and storms, protect us Lord" is found in Grižana, as are the Chapel of Saint Rock and the Church of Saint Anne.
In the Bribir area is the Church of Saint Martin in Podskoči (16th century, Glagolithic inscription), the Chapels of Saint Steven and Saint Anthony the Hermit as well as the renown and once central Church of Saint Peter and Paul (13th century, renovated in the 16th and 18th centuries, with altar paintings from the 16th, 18th and 19th centuries). Especially valuable paintings are: the Washing of the Feet, work by Palma Jr.; the Renaissance stone custody; and relief with a picture depicting the Blessed Virgin Mary (16th century).
Around the Novljana Vela and Mala polje are the Churches of Saint Mark and Saint Cosmas; the Bribir village towards Selce is the location of the Church of Saint Barbara, positioned at the top of a hill (255 metres), as well as the historical inscription in the Gothic Church of Saint George (see the page on Saint George)...
The heritage of Selce is marked by the Church of Saint Catherine (15th century), the Chapel of Saint Joseph and the new Church of Saint Catherine (19th century). On the road to Bribir are the votive Churches of Saint Fabian and Saint Sebastian (19th century, built for protection from cholera).
The magnificent Church of Saints Phillip and Jacob (14th century, in the 15th century it was the chair of the Church of the Modrus Bishop) and several small churches are found in Novi Vinodolski: Churches of Saint Nicholas, Saint Marina (located on an island), Saint Lucy, Saints Fabian and Sebastian (15th century), the Holy Trinity (15th century) and others.



Information
Tourism Association of the Municipality of Vinodol
tel. 051/248 730
www.vindol.org
tzo-vinodolske@ri.t-com.hr
Tourism Association of the City of Novi Vinodolski
tel. 051/244 306
www.tz-novi-vinodolski.hr
tzg-novi-vinodolski@ri.t-com.hr
Selce Tourism Association
tel. 051/765 165
ww.tzselce.hr
tzm-selce@ri.t-com.hr
Special masses served on:
Feast day of Saint Dujma (7 May)
Feast day of Saint Martin (11 November)
Feast day of Saints Peter and Paul (26 June)
Feast day of Saint Catherine (25 November)
Feast day of Saints Phillip and Jacob (3 May)

Accommodations: hotels, private accommodations,
camps