RIJEKA SYNAGOGUE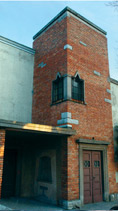 Of the three synagogues remaining in Croatia after World War II, one is found in Rijeka. It is located on Ivan Filipović Street (across the street from the Faculty of Economics). It was not constructed as the main city synagogue (constructed in 1903 and destroyed in 1944) for Rijeka at that time (1930), had a large synagogue (at the intersection of today's Ciottine and Pomerio Streets, constructed in 1903 destroyed in 1944).
Today's surviving Jewish temples, of modest dimensions, were constructed for "the needs of the Orthodox Jews in Rijeka, who were much fewer in number as compared to other large Jewish communities". In addition to being a monument, this synagogue also has the characteristics of a cultural and religious centre for the Jewish community.
It was constructed based on the project by G. Angyala and P. Fabbra, and was completed after three changes were made to the project. It is considered to be one of the valuable creations of modern architecture in Rijeka (1918-1945).
The stone tablet and red brick, the slightly opened windows bearing the Star of David are the elements that leave an impression and give an elegant appearance to the temple facade.
The temple interior, the foyer and ceremony room stand out. Over the entrance is the section of the balcony meant for women. During celebrations, the followers turn towards the place where the holy book (Thora) is held. The most celebrated day in the year in Yom Kippur.
Information

Tourism Association of the City of Rijeka
tel. 051/335 882
www.tz-rijeka.hr
tz-rijeka@ri.t-com.hr
tic@ri.t-com.hr