MOTHER OF GOD OF SVETOGORA
The sanctuary of the Mother of God of Mount Carmel is situated in the Gerovo parish in Gorski Kotar, in the tranquillity of green fir trees 975 meters above sea level near the Gerovčica spring in the region of Čabar. Due to its location and ambient, the sanctuary is often called the Mother of God of Svetogora (Holy Mountain).

Interwoven in its history are centuries of pledges, faith and prayer. Fires and other setbacks have destroyed many documents and written testimony. Those remaining are worth mentioning. The first mention of the church dates back to 1504. The papal bulls of Pope Benedict XIV in 1747 and 1752, granted forgiveness for the sins of the pilgrims for the Feast of Our Lady of Mount Carmel, and in 1761 Pope Clement XII gave the main altar the power of forgiveness. Due to the fact that many documents were destroyed, the church's empty historical space was instead filled with numerous legends.
The sanctuary is approached by the large, wide stairs; alongside the stairs are the renovated chapels of the Stations of the Cross. In front of the church is the large bell tower through which one must pass in order to enter the spacious church.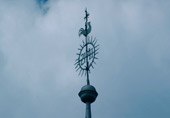 The bell tower of the church in Svetogora is well known. It is worth coming to the sanctuary to hear the high scale of tones spill over the Gerovo region in a call for peace and dedication to Our Lady.
The central space of the church is held by the wooden altar (1847), which has a "life-sized" crowned statue of Our Lady over the tabernacle.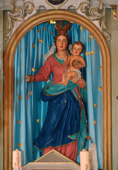 In the crook of her left arm, she is holding baby Jesus; while she holds a mace in her right hand. The statue does not have significant artistic value but is very well known for its miraculousness. In the church are also the Chapels of the Guardian Angel and Our Lady of Lourdes..
Many followers come up to the main altar and walk around it (most often three times). Along with people from Gorana, many pilgrims come from the coastal areas (some walk the entire distance), islanders, Slovenians… The wives of seamen and fishermen are frequent visitors, from whence the inspiration for the large inscription over the sanctuary reading "Healthy Star of the Sea, Miraculous Mother".

Information:

Gerovo Parish Office
tel. 051/823 115
Čabar Tourism Association
tel. 051/821 042
How to get to the church:
- paved road, 6 kilometres from Gerovo towards Prezid (diverging road between Mali Lug and Smrečje)
- walking trails from Plešce, Zamost, Mali Lug, and Tršce…)
Accommodation:
- in Hotel Gerovo and private accommodation
Pilgrimages
- First Sunday in May
- Sunday of the Feast of Our Lady of Mount Carmel (16 July)
- Three day parish feast on the Nativity of the Virgin Mary (8 September)
- Second Sunday in October - "Thanksgiving Sunday"