OUR LADY OF LOURDES, RIJEKA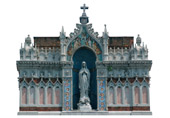 The Church of Our Lady of Lourdes
Over Rijeka's Žabica Square, at the location of the old church (17th century), is an impressive red and white building with a neo-Gothic façade (1904-1921) constructed on the occasion of the fiftieth anniversary of the Lourdes apparitions. The Capuchin monastery leans upon it. The historic separation (1924) of the city on the Riječina (Croatian-Italian) was seen both in the church and monastery.
The first Croatian votive sanctuary dedicated to Our Lady of Lourdes (Croatian Lourdes) was erected at the initiative of the Croatian Capuchin province, by Father Bernardin Škrivanić, founder of Rijeka's "House of Good Publications" and the "Our Lady of Lourdes" magazine (1908-1918). Like the one in Lourdes, this church has two parts. The lower section (completed in 1908) is dedicated to Mary, Consoler of the Soul while the upper section (completed in 1921) was constructed by donations from
the pilgrims and painted with frescos by the well-known master, Romulo Venucci, from Rijeka. At the top of the church's ornate façade, in the niche, is the statue of Our Lady of Lourdes (work by Giuseppe Marietti). Even though the bell tower was part of the designed project, it still has not been constructed.
At the main entrance is a wide staircase, however, the church can be entered from two different streets.
Saint Leopold Bogdan Mandić (1866-1942) spent 25 days at the Church of Our Lady of Lourdes (1923) where he conducted the "charismatic confessional". His stay in Rijeka (confessional for Croatians) was ended at the request that he return to followers in Padua. On display in the monastery is an exhibit of items testifying to his short stay in Rijeka. The name Father Ante Tomić is also permanently tied to this church. The preparations to start the process for his beautification are underway. Father Ante Tomić's grave is in the lower section of the church.
Information

Tourism Association of the City of Rijeka
tel. 051/335 882
www.tz-rijeka.hr
tz-rijeka@ri.t-com.hr
tic@ri.t-com.hr
Capuchin monastery
tel. 051/335 233
Pilgrimages:
11 February, Our Lady of Lourdes, Day of the Ill (three day feast)

12 May, Saint Leopold Bogdan Mandić
4 October, Saint Francis of Assisi
6 December, Saint Nicholas (mass served on 5 December)
8 December, Immaculate Conception of the Blessed Virgin Mary (three days feast)
Church open:
From 7:00-12:00 and from 16:00-20:00
Crypt from 6:30-17:30
Accommodations:
hotels, private accommodations