SAINT NICHOLAS, SAINT MICHAEL, SAINT GEORGE...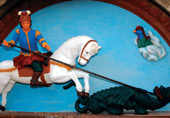 Of all saints honoured in Kvarner County, the greatest dedication, with more than 100 votive churches and chapels is given to the Blessed Virgin Mary. Following are the churches dedicated to Saint Nicholas (approximately 50 churches), Saint Michael, Saint George, Saint Peter, Saint Anthony the Abbott, Saint John the Baptist (each with about 30 churches), and then other saints.
Nicholas the Bishop (Saint Nicholas of Bari, 4th century) is the patron saint of seamen, sailors, travellers and small children. His image, shown with three bags of gold coins (or three gold balls), an anchor, with a vessel in the background or with a child in a tub is found on the altar backdrop of the main and side altars in the churches, which are situated on the sea shore or in a place where the sea is visible, as well as on main trails which all suggest his presence. He is celebrated on 6 December, with large processions held in certain towns and places. This day is especially celebrated in Rijeka and Kraljevec, in Brod Moravica, Ćunski…
Saint Michael, the Archangel, came in place of many pre-Christian gods and is the patron saint against all enemies. His churches are normally positioned on hilltops (strategic position), before city entrances (to protect the town from evil forces) and in graveyards (to lead the soul to heaven). He is celebrated on 29 September with mass and feasts, particularly in Jelenje, Pasjak, Vrh (Krk), and Lovranska Draga…
Saint George, officer and martyr (303) in Asia Minor, is one of the most respected saints in Kvarner County; he is the protector of the Earth, crops, forests, livestock, farmers, shepherds, soldiers… The churches dedicated to him are typically very old as he "replaced the Slavic gods of the coming summers, manifested in 'Green George'." He is celebrated on 23 April (Jurjeva) through various traditions. This day is celebrated in Hreljin, on Trsat, Belej, Lisac, Selca, Bribir and in Lovran (one day later on 24 April).