CHURCHES DEDICATED TO MARY ON THE ISLAND OF CRES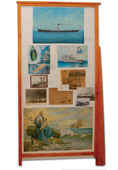 Our Lady of Holy Salvation
In the Cres Diocese of Saint Mary the Great, is the Church of the Mother of God of the Holy Savoir, known among the Cres followers as Our Lady of Holy Salvation.
It was constructed in 1857 not far from the foundations of the old chapel (16th century) on a plateau, such that the church has a lovely view of the sea and serve as an orientation point from the sea.
A three kilometre long road leads to the church from the centre of the city. The road passes through olive groves and stone walls and is filled with the aroma and beauty of the natural Cres landscape. On the church's main altar is a painting of the Virgin Mary and baby Jesus (18th century) and above the altar is a large altar backdrop with a motif of Mary with the deceased Savoir across her lap. The church is filled with valuable art as well as numerous votive gifts (boats and paintings).
Our Lady of the Snow
The parish Church of Saint Mary the Great, known as Our Lady of the Snow, located in Cres, is a triple nave structure (consecrated in 1554) constructed on the foundations of an older church (15th century). Highlighted here are: the Annunciation of Mary and a relief of the Mother of God in the lunette portal, and a painting of Our Lady (19th century) at the main altar. The late Gothic statue of Our Lady of Consolation (15th century) is of particular value.

Information
Cres Tourism Association
tel. 051/571 535
www.tzg-cres.hr
tzg-cresa@ri.t-com.hr
Cres Parish Office
tel. 051/571 255
Pilgrimages:
Our Lady of Holy Salvation - on the Feast of Mary's visitation to Saint Elizabeth (31 May), on the morning of the Feast of the Assumption (15 August)
Our Lady of Snow on the feast day of the same name (5 August)
Accommodations:
Hotel, private accommodation, camps