RAB CATHEDRAL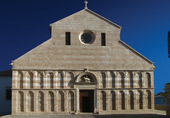 The Church of Saint Mary the Great
One of the most well known churches dedicated to Mary in Croatia and one of the three island Cathedrals in Kvarner dedicated to the Assumption of Mary is the Church of Saint Mary in Rab, which was consecrated in 1177 by Pope Alexander III.
This "layered construction monument" dates back to the early Christian period (5th century) and through the centuries to the Baroque period; the church was expanded and renovated many times.
Every pilgrim will stop at the main entrance, before the main altar and lunette where the Pieta (16th century) is held, and then in the interior of the triple nave church to see all impressive artistic works dedicated to Our Lady. These include a the painting of the Assumption of Mary on the main altar; a Byzantine icon of Our Lady (14th century) in the northern apse; the ciborium with a braided motif made of stone parts and ornaments from different periods (6th to 16th century); the antependium of the main altar with inlaid wood in the colourful marble and a figure of Saint Christopher (17th century); a valuable marble icon of Christ on the throne (11th century), gravestones, the exceptional quality woodcarving work of the choir benches (15th century)...
The Romantic bell tower (12th century, 26 meters high), ten meters away from the church is a masterpiece in its construction.
The celebratory procession (the "Crosses") is held in April, when the painting of Our Lady of Rab is brought from the Church of Saint Andrew and is exhibited in the Church of Saint Mary.
Of particular note:
The sacral exhibit in the Church of Saint Justine (16th century).

Information
Tourism Association of the City of Rab
tel. 051/771 111
www.tzg-rab.hr
tzg-raba@ri.t-com.hr
Rab Parish Office
tel. 051/724 805
Pilgrimages:
April, last Sunday, the "Crosses" celebratory procession
Feast of the Assumption (15 August)
Cathedral open:
Summer from 10:00-12:00 and 18:30-21:00
Winter, holy mass is held from 16:00-18:00
Visiting the top of the bell tower (entrance fee), children only accompanied by parents from 10:30-13:00 and from 19:30-22:00

Sacral exhibition open from 10:30-12:30 and 20:00-22:00 (from 15 June to 15 September).