hrvatski :: italiano :: deutsch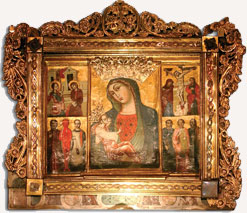 Dear travellers and guests of Kvarner,
In this publication, we present a part of the rich cultural and religious heritage of Kvarner. Through the rich history of this region, this heritage was frequently pushed out of the public eye; however, through the people it retained its own form of expression.
The people of this region, regardless of their social or economic status, seek support and strength in the adversity they face. The most powerful expressions of that search, without question, are certainly the votive gifts of many generations of our seamen and their families to the sanctuary of the Mother of God of Trsat.
For that reason, we begin this publication with the visit by Pope John Paul II to our region, to Trsat, and with the presentation of that sanctuary.

In the collective memory of the people of Kvarner, Trsat is a mythical place. In reading this publication, you will also come to believe this, and perhaps you will once decide to take the path of the pilgrims who have been coming here for centuries.
However, there is not only Trsat. Throughout the Kvarner region – on the hilltops and in the mountain foothills, alongside fertile fields and vineyards, and in the picturesque maritime inlets and on the powerful sea cliffs, at intersections and alongside roads, next to the slim bell towers in city and village centres, at the corners of streets and at the stone thresholds, at distant graveyards – we find signs of faith and piety scattered about.
Imbued with the landscape and in harmony with the city and village areas, enriched with the appropriate principles, they most vividly testify to and interpret the deliberation and respect for nature and the living centres.
These numerous signs, which range from humble roadside "chapels" to massive cathedrals, are an expression of the character of this people: hard-working, humble, responsible and devoted. The maritime and mountain people in this area have fit these works into the context of this part of the world, proving their simultaneous ties to the values of central Europe and national independence. In that way, the people have ensured the continuity of their lives, as well as allowing those who decided to live here permanently to express and respect their values.

Therefore, make the pilgrimage yourself, with your spirit and heart, through the Kvarner landscape. Become acquainted with the warmness and intimacy of its sanctuaries, get to know a part of our rich history, which we today nurture and continue in symbiosis with our environment. We believe that reading this publication will be a good stimulus to again convince you of the most genuine experiences possible here.
Irena Peršić Živadinov, Dr.Sc.
Director, Tourist office
Kvarner County Tourism Office
Zlatko Komadina,
President
Kvarner County Tourism Office